Visiting out of reach communities in Kenya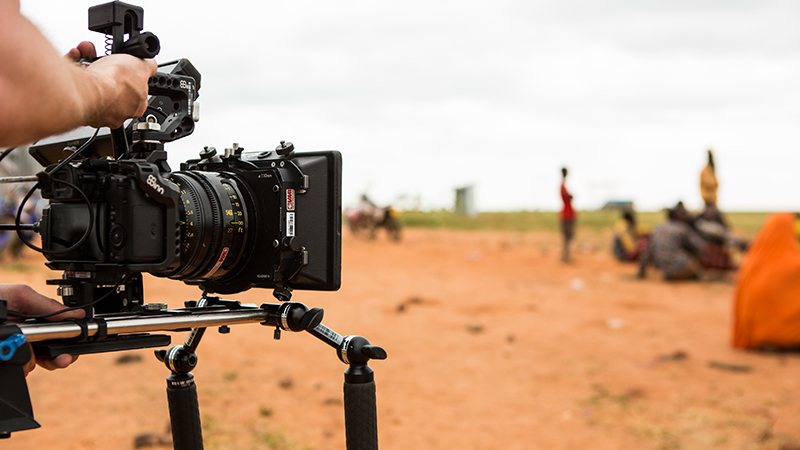 CAFOD's Film & Photography Officer, Thom Flint, reflects on his trip to Marsabit County in Kenya. There he met some of the most isolated communities, but saw the potential that our global Church network has to reach out.
The journey
We jumped into the back of the Caritas Marsabit 4×4 and hit the road, film equipment safely stored behind us. And under us. And on top of us. We were in north-east Kenya, on our way to meet the communities that we've been giving food aid to since the drought hit in 2016.
The going was initially easy. A little too easy. We zoomed up a very smooth, newly-tarmacked main road with only the occasional camel for company.
But the communities we were visiting didn't happen to live on a main road.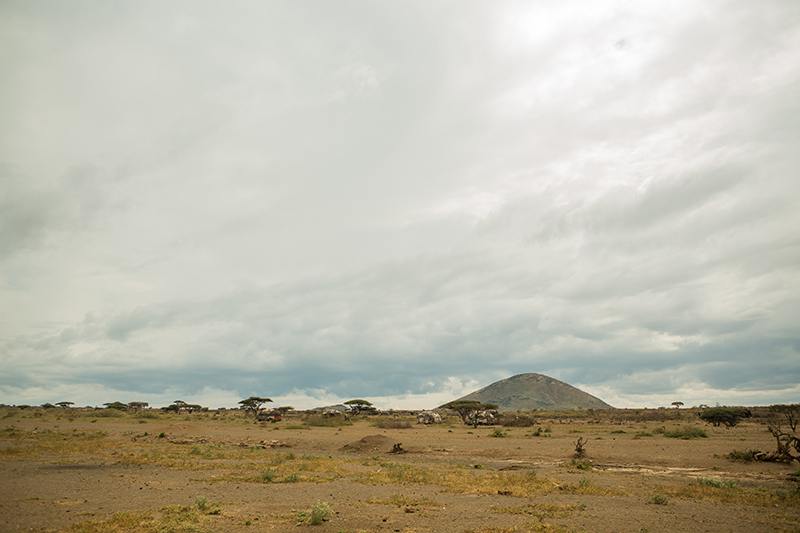 They lived another hour-or-so away over some of the roughest, driest, most stone-covered terrain I've experienced in my career as a charity filmmaker. We bounced around in the back of the 4×4, crawling along at times, trying to keep the camera equipment from bashing into the walls of the vehicle (or into us) until we eventually reached our designated meeting point.
The landscape
This was not the hive of activity you might expect from the central hub of a community – it was a few simple shacks with a handful of homesteads dotted around it, with more spreading out into the dusty distance.
The homesteads themselves were one of the most fascinating parts of this area. Primarily made of long, thin pieces of wood bent over and stitched together with old t-shirts, tarpaulin and other random bits of material, they are amazing domes of ingenuity that can be completely collapsed down and placed on the back of a camel within an hour.
It takes me at least three times that long to pack down my tent at Greenbelt each year. And it still never fits back in its bag.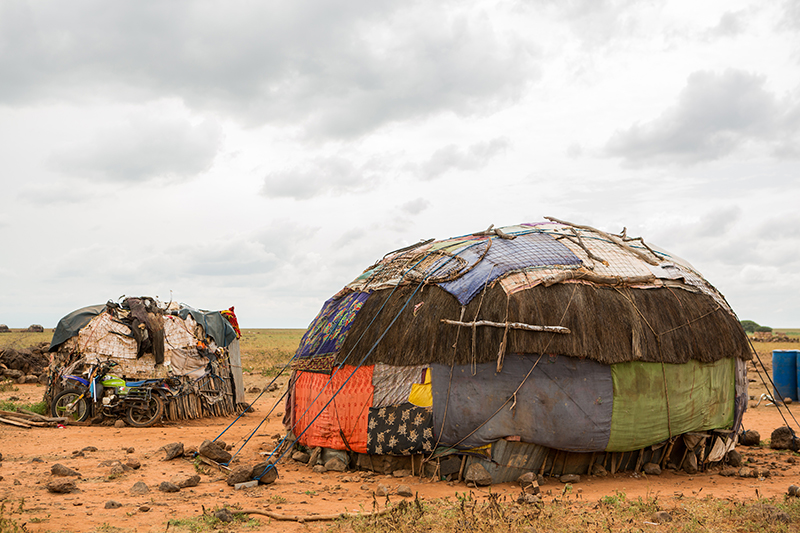 This flexibility is essential for this community as they are 'pastoralist' – they rely completely on their animals for their income and their food. When the local area can no longer support the grazing of their cattle, entire villages are forced to literally 'up sticks' and move their homes to find new pasture.
So, when the East Africa drought hit in 2016, and entire herds were lost, these people lost absolutely everything.
Imagine all of your life savings – everything you've worked for – disappearing in front of you. That's what these people had to go through.
The partner
When on these story-gathering trips we'll always travel with staff that are based locally. They act as our tour guides, itinerary planners, fixers, translators, drivers, boom-mic operators, advice-givers, ice-breakers and joke-makers, but, above all, they are absolute experts in their areas of work, and none more so than Isacko Jirma. So much so, that he is the feature of our brand-new film.
"People depend on their animals – they are everything. Marsabit is the fourth poorest county in Kenya and has frequent droughts."

Isacko Jirma
Isacko is the epitome of why we work with local experts. Not only is he incredibly knowledgeable about the local area, but he has a drive and passion to improve the lives of those people around him that is second-to-none. This is evident from the moment you meet him – Isacko is actually from one of the villages we visited on this trip.
Isacko has lived and breathed the problems the people in this area are currently facing, and is now a huge part of the solution. We filmed him lead a 'food voucher distribution' which is literally just that – handing out food vouchers for people to redeem the next day. This is not long-term development, it's an emergency situation that requires an immediate response.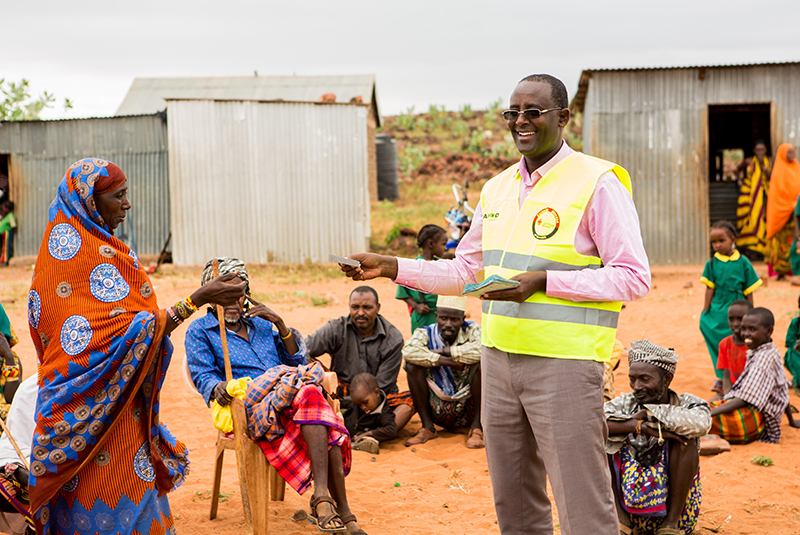 And it's a response that is still needed. The East Africa drought may not be deemed newsworthy anymore but there are still people in need of assistance. The families that we met are still living in an emergency situation. They are still very much on the edge.
Kushi
It was at this voucher distribution that we met Kushi who was hit incredibly hard by the drought, losing all her livestock.
"There was no water, no food and no animal products so people were just living almost without anything."

Kushi Huka
Kushi received a food voucher which allowed her to choose what she wanted to take home to her children, rather than having to take home food that her children might not eat.
"With vouchers, I am not restricted when I go to the shop, I can get many kinds of food items…These vouchers, they really helped my family. Without this voucher I could have lost some of my children out of hunger."


Kushi Huka
We filmed Kushi at the distribution. She was incredibly patient (especially considering the amount of times I used my favourite 'hilarious' directorial phrase, "That was perfect! Let's do it again."), and soon got the hang of having to do each bit several times so we could film from different angles.
Kushi has six children, the youngest just two months old when we met her, and is solely responsible for keeping them all healthy, happy and in education. All of this weight on her shoulders and she's only 30 years old, two years younger than me.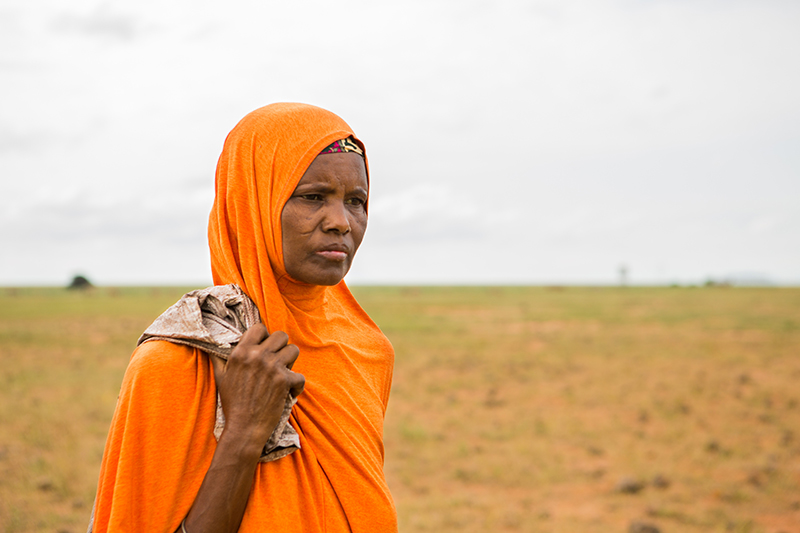 When I consider that the biggest stress in my life is whether or not to face the Northern line at Clapham South between 8am and 8.45am on a weekday morning, meeting Kushi was an incredibly humbling experience. She's lived through something no one should ever have to face, and is still battling to come out of the other side.
Frustrations
It was clear how grateful Kushi was for receiving this small amount of food aid and how big an impact it was having on her life and the lives of her children. But Isacko told us that there were communities in the area that they simply weren't able to help.
During his interview with us, he was incredibly honest about the difficulties he is facing.
"What is so frustrating for us as a humanitarian development organisation is the inability, because of limited resources, to reach these people. It is the biggest challenge we have, it is the biggest frustration that we undergo…And we had to painfully do targeting, that in a village you can only support 50% or 40%. The rest, what do you do?"

Isacko Jirma
We hear that word 'resources' a lot in this field of work. It's the polite term for 'money'.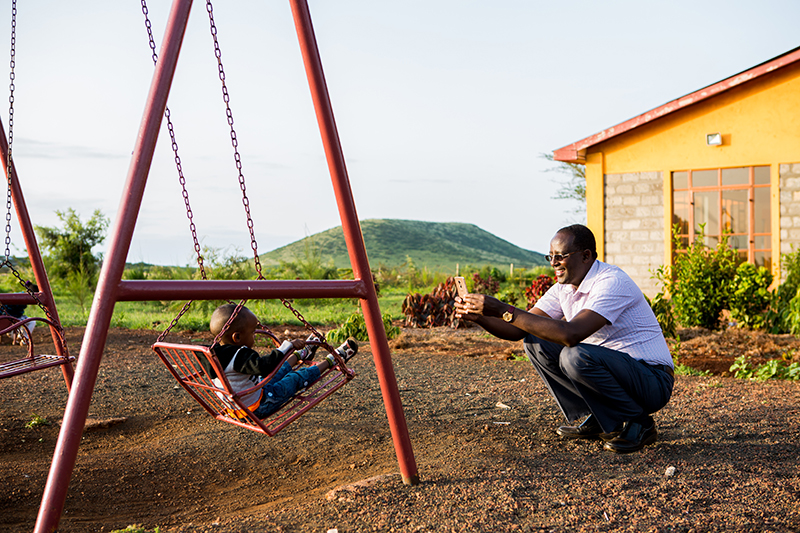 Isacko's frustration was clear, and it's a frustration that we should all feel with him. He and his team are there, ready and willing to reach everyone, but they are unable to purely due a lack of money. They have to make the impossible choice of who to help and who to leave behind.
"This is a community that have integrity"
You're always told never to edit your own films as it's impossible to be objective. But being a charity, we don't really have the budget to hire an entire crew, so I have to put aside how I feel about a particular shot or section of an interview and just leave the essential stuff in there to tell a story.
There's one brief line from Isacko's interview that I found particularly difficult to cut: "This is a community that have integrity, and they don't want to beg."
This is so incredibly important to remember. As a filmmaker for CAFOD, I shape how our audience come into contact with those people, like Kushi, that their donations help to support. And they don't want pity, or sympathy, they just want an opportunity to work themselves out of the situation they've been forced into, be it due to climate change, conflict, stigmatisation or a lack of rights.
Your donations, together with that amazing global Church network, give us the potential to reach more people who are asking for our assistance.