Zimbabwe: the country of my birth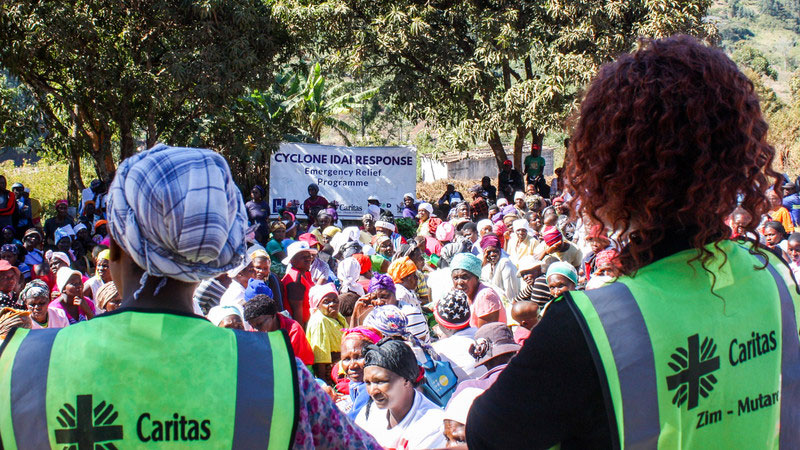 "Much has been spoken and written about the country of my birth," says Sylvester Mutsigwa. A year on from Cyclone Idai, CAFOD's Community Participation Coordinator for Birmingham visited Zimbabwe and found that its recovery is being built on the hope, resilience and love of its people.
Childhood memories of Zimbabwe and its beauty remain some of my fondest. I remember the beautiful and majestic Victoria Falls, the incredible architecture and stonework of Great Zimbabwe, and the gorgeous golden sunsets along the Zambezi river. I think of Jacaranda trees lining either side of the streets. In spring, their bloom created a beautiful purple carpet along the roads. It seemed to me that everyone had a friendly smile – there was a real sense of hope everywhere I went.
These are unforgettable memories.
Sadly, the Zimbabwe I witnessed during a recent three-week visit paints a different picture – a stark, if not bleak, contrast to my memories.
Find out about the food crisis affecting Southern Africa
A country hit by climate change and economic crisis
Zimbabwe once boasted an enviable subtropical climate, excellent rainfall seasons and fertile soil, but climate change and spiralling hyperinflation over the last three decades have altered the social and physical landscape of the country.
The once reliable and abundant rains – the backbone of the agricultural sector – have been replaced by long dry spells and extensive droughts. Seventy per cent of Zimbabwe's population live in the rural areas. They are farmers that rely on agriculture to feed and support their families. Persistent droughts have resulted in little-to-no crop yields and the loss of livestock – the measure of a family's wealth.
Zimbabwe's urban population were mostly unaffected by previous droughts. This too has changed, as daily average temperatures soar. In Harare, the main dam supplying water to all households is below capacity. As a result, running water is limited to just one day each week.
Moreover, because of the dire economic situation, local councils cannot afford to treat water sufficiently. Therefore, the water that does manage to come through the household taps is unsafe to drink. In order to get safe drinking water, most urban families are forced to walk or drive for miles on end, with large containers, to form queues at busy boreholes.
To further exacerbate the situation, drought and soaring temperatures have caused low water levels. Subsequently, the Kariba dam – one of Zimbabwe's main sources of energy through hydroelectricity – is not producing enough electricity. In order to manage this, electricity supplies to homes and businesses are restricted. Businesses have no option but to either reduce opening hours or permanently close, leaving many people unemployed.
Furthermore, hospitals must deal with failing medical equipment, shortages of basic supplies, and rising mother and baby mortality rates. Food and fuel prices have risen beyond levels of affordability for most people. Rural and urban families alike are facing poverty – reduced to eating one meal each day, just to be able to afford to send their children to school.
Finding hope after Cyclone Idai
All of this, and then the devastation caused by Cyclone Idai. In 2019, huge storms and severe flooding affected parts of Zimbabwe and Mozambique. Houses, crops and livestock were destroyed. Thousands of people were killed.
Yet, despite these desperate circumstances, the Zimbabweans that I know – either through sheer determination or strong faith – somehow manage to find the means to survive.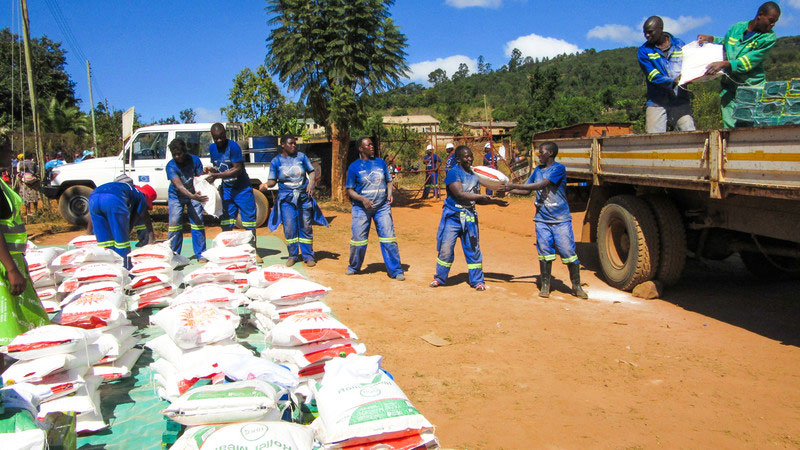 On my recent visit to Zimbabwe, I asked an uncle how this was possible. He told me:
"The situation in this country weighed me down so much. I would ask myself, why is all this happening to me? Then, one day, whilst in my garden, I overheard my neighbours complaining about the very same issues I was complaining about.
"Walking down the street, I overheard others also lamenting over the same issues that I am going through. I realised I was not alone – that things will get better."
My uncle's resilience is that of most Zimbabweans. His hope, too. Things will get better. My work so far with CAFOD has shown this to be true.
See the impact of your donations to our Cyclone Idai appeal
The importance of local experts
CAFOD was at the centre of the Cyclone Idai emergency appeal. Local experts worked tirelessly to ensure vital emergency aid reached affected communities. Today, while the rest of the world has moved on from the cyclone and its devastation – never mind the ongoing problems of drought – CAFOD continues to provide assistance to these communities.
The local experts we work with range from emergency first responders, nutrition advisors, water and sanitation engineers, agricultural educators, psycho-social counsellors, and many more. They are trusted and knowledgeable local people that have often grown up in the communities they now support.
Learn more about the lives of local experts
One of these local experts is Sr Consilia. She is a trained pharmacist, working from a remote, rural hospital in Gokwe, west Zimbabwe. She prescribes medication, conducts check-ups and gives valuable advice. Every day, she helps pregnant mothers and their babies survive. When asked why she works so hard, her reply was simple: love.
Perhaps this simple reason also explains my uncle's resilience and hope – the resilience and hope of people all over Zimbabwe – love for our sisters and brothers.
This Lent, support our local experts – people like Sr Consilia – so they can continue their brilliant work. Show them the love they show others.