Covid-19: "We refuse to be overwhelmed by the odds stacked against us"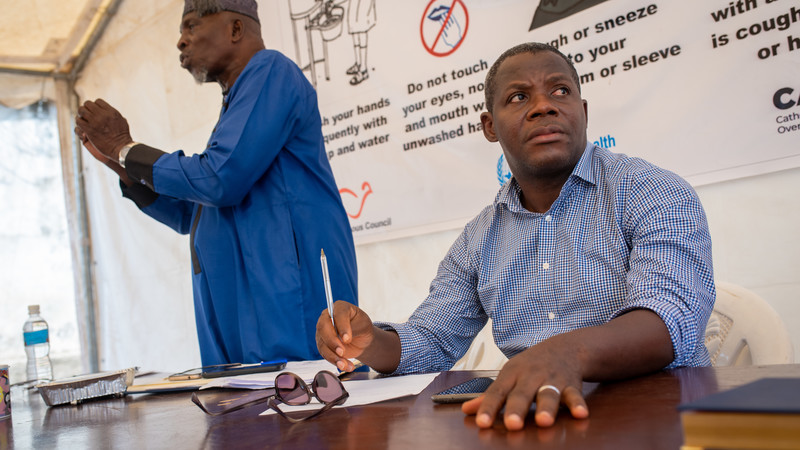 Nana Anto-Awuakye recalls her visit to Sierra Leone in 2015 at the peak of the Ebola outbreak and reports on the work that CAFOD has begun with local experts in the country now to fight coronavirus.
As I queued up outside our local Co-op, which is now putting into practice a 'one in, one out' policy, I had a wobble.
I didn't wobble because I was worried about empty shelves. I didn't wobble about not being able to buy what I needed. I have magic pasta powers and can spin a pasta dish in a hundred different ways. I can easily tell my family, with a straight face: "No, it's definitely completely different from yesterday's pasta dish – eat up!"
I didn't wobble because of these little inconveniences. Instead, in the silence of the Co-op queue, I wobbled because of the enormity of COVID-19. Its invisible tentacles reach far beyond the queues I stand in.
I began to think about the families I have had the privilege to meet while working for CAFOD. What will life be like for them in the face of this devastating virus?
Read how CAFOD is responding to coronavirus
COVID-19 doesn't discriminate
There's no getting away from the catastrophic language used to describe coronavirus hitting the developing world. We are dealing with countries that are already coping with fragile health systems – countries that host thousands of refugees in makeshift camps. Syrians in Lebanon and Jordan. Inside Syria, places like Idlib, already destroyed by war. Rohingya refugees sprawled out across the hilltops of Cox's Bazar in Bangladesh. The South Sudanese in Uganda.
The figures are staggering. But I don't see numbers, just faces of mums, dads, grandparents, uncles, aunts, brothers and sisters – individual people who will need our support in the coming weeks to simply survive this additional layer of anguish and uncertainty.
The mum from Sierra Leone who fought Ebola
The face of Fatmata comes to mind. She is one of the extraordinary mums I met in Sierra Leone in 2015, at the peak of the Ebola outbreak.
I met Fatmata in Kambia in the north-east of the country – a region that became a hotspot for Ebola. Following all strict guidelines, I spent a week with her and the Safe and Dignified Burial Team – a team of local volunteers made up of people from all walks of life, including teachers, students, farmers, taxi drivers, bricklayers and market women.
Early every morning they lined up and said prayers and sang a popular hymn, Tel Am Tenki (Give Thanks to the Almighty). I remember the poignancy of the roll call. Each volunteer replied as their name was read aloud: "I am here."
Fatmata had a five-year-old daughter at the time. After her burial shift, she would head home and, sitting on the steps outside her house, clasp her daughter between her knees to plait her hair. All day long, all I had seen was Fatmata's stern face and concentrated stare as she went about her dangerous work – removing victims of Ebola and reassuring families. But with her daughter within her knee embrace, Fatmata's face lit up. Her smile was beaming and beautiful.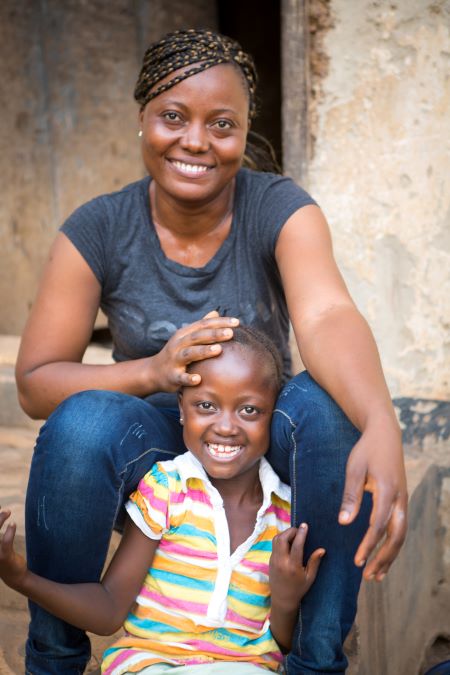 At the time, I remember asking her how she coped with being part of the burial team. She told me: "Caritas takes care of us. We follow the guidelines. And my faith in God keeps me strong. God is by my side so I can serve my country."
Coronavirus has unleashed a global crisis, but I have seen the work of the Church, local experts and CAFOD country teams, all pulling together to achieve the impossible – to defeat Ebola.
The cornerstone of CAFOD's successful work in fighting Ebola in Sierra Leone was to bring on board leaders from across the community – of all faiths and traditions – and provide training. I saw them all gather, sitting in a semicircle. Priests, imams and other traditional leaders all spoke passionately as they took turns to explain how best to stop the spread of Ebola. They had the trust of their respective communities. They were able to go where others feared to tread. They were the lynchpins to clear and accurate advice, as well as good hygiene practices that their respective communities needed to be aware of in order to stay safe.
In Madina, a few hours drive from Kambia, I met the basketball-playing priest, Father Henry Magbitg. He is over six foot four inches tall. He told me how he'd taken part in one of the CAFOD-supported Ebola training sessions for faith leaders. I walked with him around the parish. Everyone who saw us walking waved at Father Henry and called out greetings to him. We were stopped in our tracks when parishioners informed him of a local woman who had lost a loved one. Father Henry explained that it was important that he go quickly to the home of the woman so that he could explain to her and the family the safest way for them to bury their dead.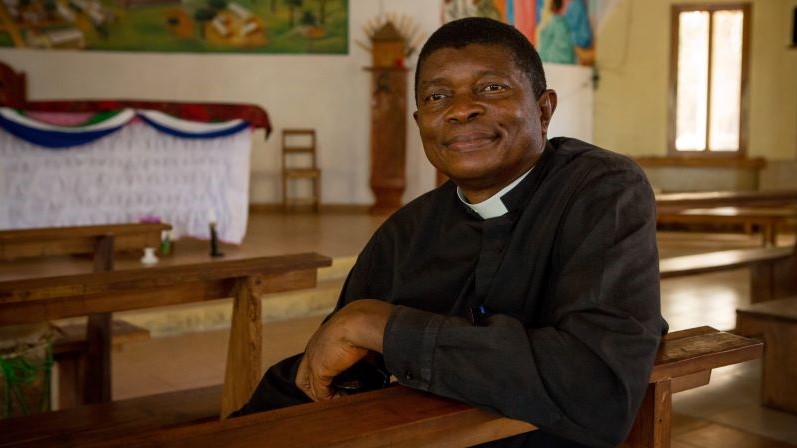 His trusted presence and reassurance in the community was "gold dust". He supported families to be comforted by their faith, and to hold on to hope.
The last thing that Sierra Leone needs after rebuilding communities post-Ebola is COVID-19. But the reality is that it has arrived. It is a virus that does not discriminate and it is already affecting people's lives in many of the countries we work in – in Kenya, Zimbabwe, Nigeria, and Bangladesh, to name a few. These countries share one thing in common. They are already working with faith leaders and local experts to reach vulnerable communities with the information they need to stay safe and protected. It's clear that the lessons learned from fighting Ebola are invaluable in tackling COVID-19.
Working to beat COVID-19
Today in Sierra Leone, we are working with local experts in hygiene and education to raise awareness. We have already started work on rolling out training for faith and community leaders. We are adapting current water and sanitation programmes in communities to include COVID-19 life-saving information.
Support local experts responding to coronavirus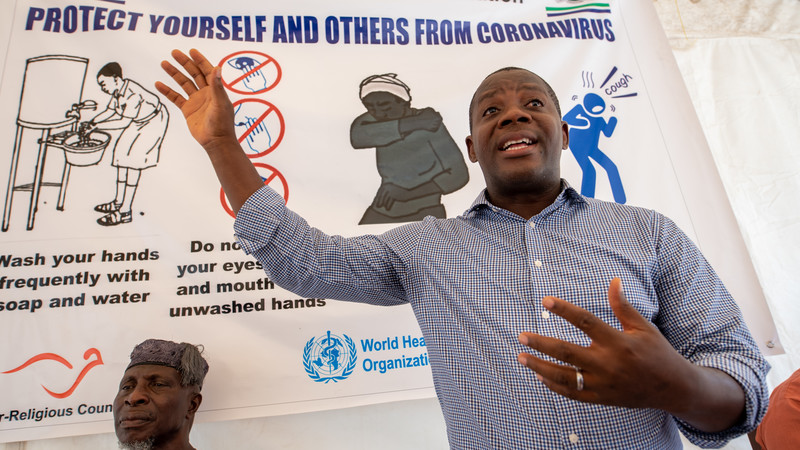 I spoke to CAFOD's Country Representative in Sierra Leone, Kayode. He's a ball of energy. He never takes 'no' for an answer. He's a galvaniser of people, bringing them together to achieve something positive for their communities. On a busy day, Kayode was able to give me a few minutes of his time via Skype. He told me:
"These are worrying and challenging times, but we refuse to be overwhelmed by the odds stacked against us.
"We are already affected by the spread and impact of coronavirus, and we are responding to and reaching out to communities that need guidance and advice on how to keep safe.
"CAFOD supporters never fail to walk alongside us in our times of greatest need. Their prayers and donations keep hope alive and propel us to do all we can to protect communities from this global pandemic.
"Filled with the Easter spirit, we thank you from deep within our hearts, for all that you do."