How one family's walking challenge helped to spread hope this summer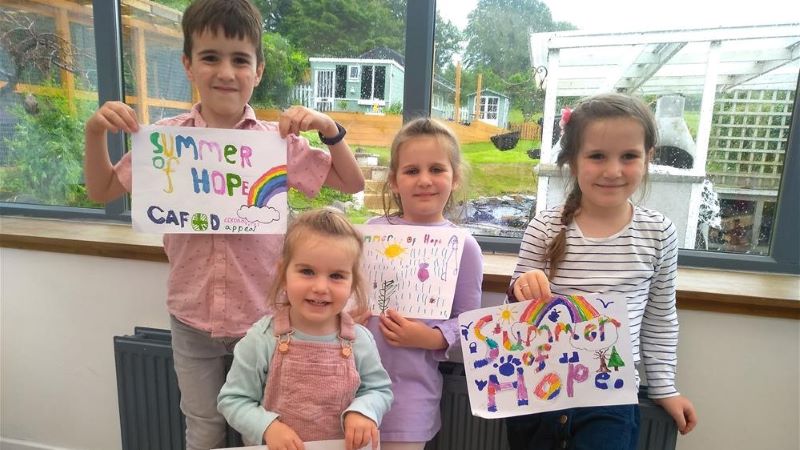 Many families around the country have been fundraising during the coronavirus pandemic. This amazing family from Scotland joined CAFOD's Summer of Hope, and each walked 26,000 steps in a day to raise funds for those less fortunate than themselves.
The Kelly family found out about CAFOD's Summer of Hope through our 'Children's liturgy live!' – which has been running since the start of the lockdown – and were inspired to take on a challenge!
Helping communities around the world
In the video which they made about their challenge, they talk about the difficulties faced by communities around the world and how fortunate they feel:
"During the coronavirus, we have been lucky enough to stay safe at home. For many people around the world it's not possible."
They continue to talk about the work of CAFOD which has inspired their challenge:
"CAFOD are working around the world to help people. They provide food, water and hygiene kits to families in need.
"CAFOD's Summer of Hope encourages us to spread hope and love.
"We are each going to walk 26,000 steps in one day to support this – that's roughly 12 miles. Please give generously to help these families and spread hope."
Set up a Summer of Hope JustGiving page
"I felt proud at the end"
The Kelly family completed their challenge and ended up raising nearly £600. Although their fundraising journey is finished, you can still donate to a Summer of Hope through our website.
Afterwards the children made these comments:
"I felt really proud at the end and also very tired!" (Scarlett, aged 7)
"We did it so we could raise money for families around the world so that they could be helped during coronavirus." (Hayden, aged 8)
"It was a really big walk and I felt it was really hard at the end, but I wanted to help others around the world by doing it and then I felt proud at the end." (Amélie, aged 5)
How your family could get involved
Do you think you and your family could take on a challenge like this? Is there an activity which you particularly enjoy which you could get sponsored to do?