Could you run a half marathon for CAFOD?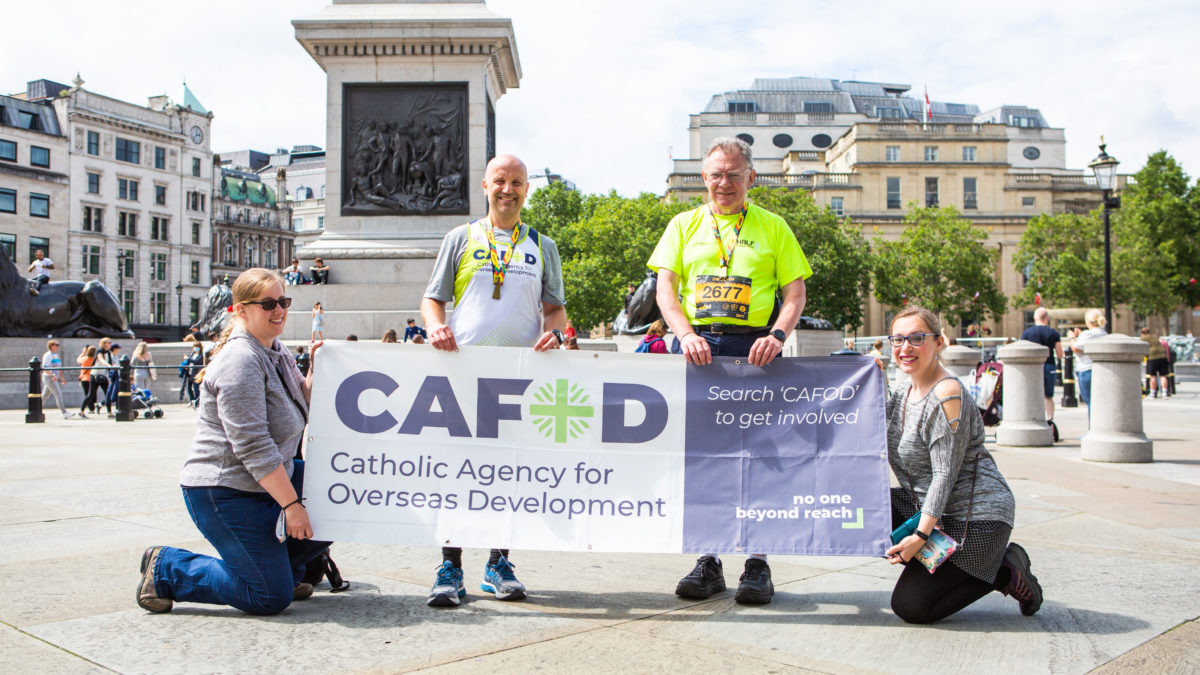 Christine from our Fundraising team recently cheered on four runners in the London Landmarks Half Marathon – one of the first in-person challenge events to be held since 2019! Read all about the day and find out how you can join in the fun and be a fundraising champion.
Years ago, I ran a 5-kilometre race and I remember being hot, sweaty, and uncomfortable. The run was through a country park – pretty countryside but lots of uphill sections! I also remember the feeling of accomplishment and pride that I had completed the course and raised money for a charity close to my heart.
Running is one sport I've never really enjoyed. But I have a lot of respect for people who do run for fun, especially when the run is for charity. So, it was with a kind of nervous excitement that I set off for the London Landmarks Half Marathon to cheer on our amazing runners Catherine, Alix, John and Richard.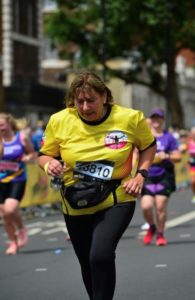 I had met our runners on Zoom and was looking forward to clapping and supporting them as they raced past. I was stationed at the five-mile point and was in awe of all the participants, running for a diverse range of charities and some in a stunning array of costumes – Bagpuss, penguins, Big Ben, the Shard, to name a few!
Ready, steady, go!
At just over 13 miles, the London Landmarks Half Marathon makes my 5-kilometre race seem tiny and I felt tired just watching the runners! But it was so clear to see how much the race meant to the individuals taking part. You could also see how much the runners appreciated being spurred on.
As the race progressed, there seemed to develop a quasi-competition among the charity cheer stations. Who could clap and cheer loudest? Anyone up for singing some ABBA? This all created a fun, light-hearted and good-natured vibe, particularly for one of the first major in-person fundraising events held for some time (especially in London).
Against the backdrop of Covid and lockdowns, everybody – all the runners, and cheerers, charity staff, family and friends – relished the chance to be part of a collective and to make a positive difference.
£3,000 raised – what an achievement!
CAFOD's amazing runners have raised over £3,000 – an incredible achievement that I can only say a huge THANK YOU for!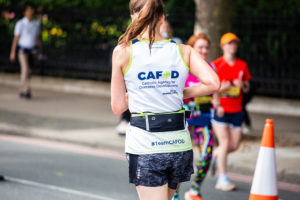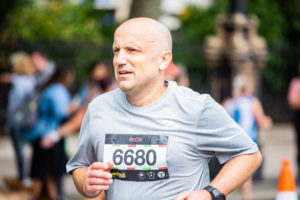 Landmark moments of 2020 and 2021
The London Landmarks Half Marathon consisted of themed sections that highlighted and explored the impact of Covid and society's response. From a 'memory mile' to a 'trolley dash', the race created both challenges and memories for runners and cheerers that will last a long time. The event also took in some of London's most enduring sites – Tower Bridge, Big Ben, the London Eye, and many more!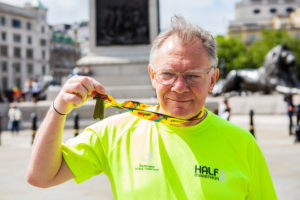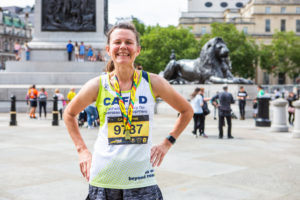 Crossing the finishing line!
At the end of the event, I was able to meet with some of the CAFOD runners. It was so lovely to celebrate their run with them, to see their medals and snap some great photos against the iconic backdrop of Trafalgar Square.
In total, over 11,000 runners took part, and it is humbling to think how much money will have been raised to support worthwhile causes.
I left and wandered down to St James's Park to eat a late lunch, feeling tired but happy and so grateful for CAFOD's wonderful supporters. Being part of the London Landmarks Half Marathon was inspiring and I would highly recommend either participating or supporting this event or a different fundraising challenge event in the future. Together, we can make a difference, together we can unite as one global family – sharing and caring for our common home and each other.
Maybe you could join us for the next London Landmarks Half Marathon on Sunday 3 April 2022?