Christmas traditions around the world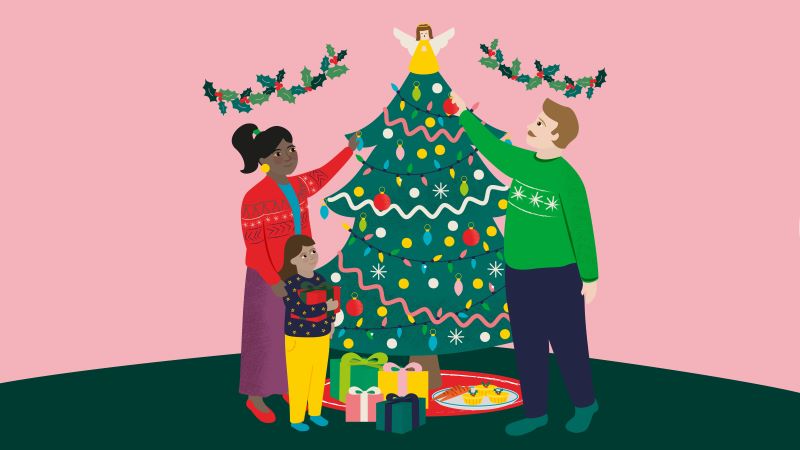 Around the world, different communities have completely unique Christmas traditions, writes CAFOD's Becky Such. Combining Jesus' birthday story with the quirks of local culture has created some brilliant, different and fun ways to celebrate Christmas. Here are just a few examples…
Trees, please!
For many people in the UK (Catholics and non-Catholics alike), a common symbol of Christmas is the Christmas tree. But what's a Christmas tree got to do with our baby Jesus?
During Victorian times, Christmas trees were decorated with candles and topped with an angel or star, to remind children of the angel that brought 'news of great joy' to the shepherds in the fields, or the star that guided the 'Three Kings' to Bethlehem. In modern times, we've kept the star or angel topper, but dropped the candles. Covering a dry tree in lit candles was, of course, a massive fire hazard. Pretty silly of those Victorians if you ask me.
Today, Christmas trees are decorated with tinsel, fairy-lights and small, hanging ornaments – the joy and brightness of the Christmas tree is still a great reminder of Jesus as the 'Light of the World'.
You can support a family with five fruit tree saplings, as well as all the tools and training they'll need to produce their very own tree nursery.
Check out the tree-mendous Trees for life gift from CAFOD's World Gifts for just £8
Who needs Christmas Carols when we've got Christmas COOKIES?!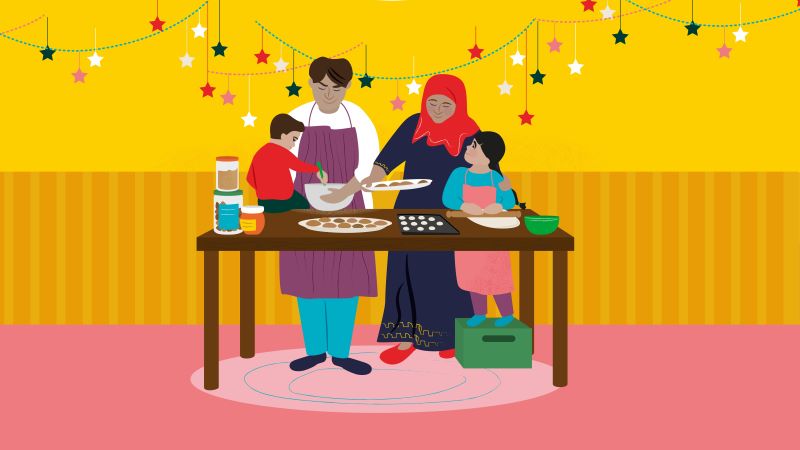 One week before Christmas, Christians in Palestine start baking delicious, homemade sweets and cookies like ma'amoul and makroudh to share with visitors, family and friends. 
Ma'amoul and makroudh are traditional cookies filled with dried fruits like figs or dates, or nuts like pistachios, walnuts or almonds. Ma'amoul are made in the shape of balls, or domed or flattened cookies, and are sometimes decorated by hand. For the makroudh, the dough is rolled and cut into diamond-shaped pieces. The pastry is then oven-baked and the makroudh are soaked in honey or sweet syrup. Mmmmmmmmm… 
Ma'amoul and makroudh cookies are popular treats throughout the Arab world – not just for Christmas but other religious holidays like Eid and Easter too.  
Good for people and the planet, they can cook up their own favourite meals.
For £9 you can provide someone with the training materials they need to build an Energy saving stove from CAFOD World Gifts
Christmas with a bang!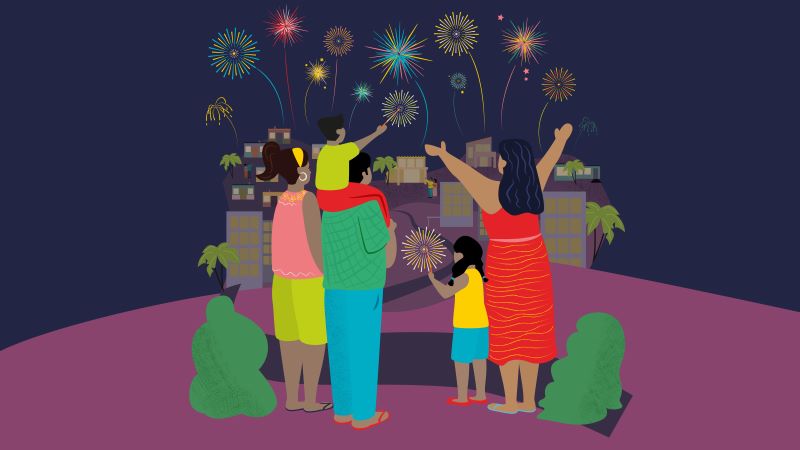 Big family gatherings, cooking fancy food and spending time at church are the usual ways to celebrate Christmas in El Salvador. But there's one particularly loud tradition that stands out from the rest: Christmas fireworks!
In El Salvador, families set off fireworks throughout December – the country is alive with the sound of friendly rockets, Roman Candles, Catherine Wheels, sparklers and firecrackers. However, the biggest firework event takes place on Christmas Eve, just before the clocks strike midnight….
It might be a Holy Night, but for Salvadorians, it's definitely not a silent one! Cities, towns and villages are filled with the noise of fireworks, music and laughter. The sky is bright and colourful. The streets smell like gunpowder and fresh cooking. Entire neighbourhoods come together to celebrate the birth of Jesus and the coming New Year in style – as a united community.
We work with a local organisation in El Salvador that earn extra income by creating wonderful, carved and hand painted wooden crosses commemorating the martyr Oscar Romero.
For just £4.25 you can buy a beautiful, colourful, handmade Romero Cross
Lovely lanterns light the way!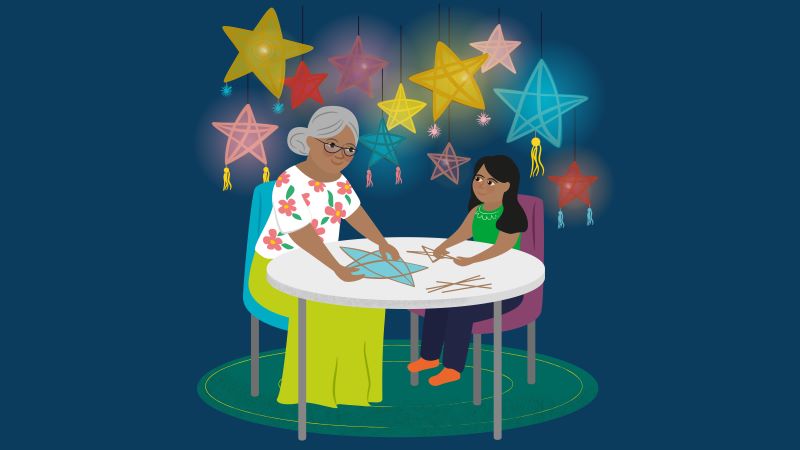 In the Philippines, an iconic symbol of Christmas is the 'parol'. A parol is an ornamental lantern displayed throughout the Christmas season. Traditionally, parols are constructed using bamboo and paper, and are illuminated using candles or oil lamps. Nowadays, parols can be made from plastic, shells, glass, beads, foil, feathers, hemp, leaves, seeds, straws, wood and even metal. Parols are most commonly made in the shape of a five-pointed star – a reminder of the star above Bethlehem – with two decorative 'tails'.
When city streets and houses light up with colourful Christmas lanterns, it only means one thing: the festive season is here!
Parols often first appear around September, along with other Christmas decorations, to signal the coming of the season. Like Christmas trees in the UK, the parols stay up until January and are removed following the Epiphany, to honour the arrival of the 'Three Kings'.
(Lots of communities throughout the Philippines hold competitions to see who can make the best parol. Some are even 40ft wide!)
Help a young person get creative and learn a new skill that can really make a difference. For someone whose education is cut short, becoming a tailor and earning an independent income opens up a whole world of possibilities!
For just £21 you can by the spectacular Sewing kit gift from CAFOD's World Gifts
Celebrations from dusk until dawn!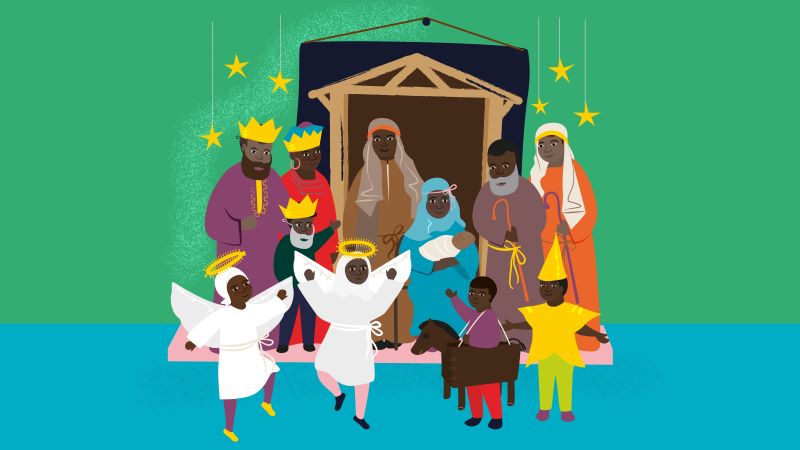 Christmas Eve is very important in the Democratic Republic of the Congo (DRC). Most churches hold big musical gatherings and special Nativity plays. The plays usually last a very long time. It's not just the story of Mary and Joseph, Angel Gabriel, the Shepherds and Wise Men, but rather, the entire bible! The evening starts with the story of Creation and the Garden of Eden and continues all the way through to Jesus' birth (and beyond)!
People taking part in these epic Nativity marathons usually like to show off their best acting skills by really 'hamming it up'! King Herod and his soldiers are often figures of fun – a bit like pantomime baddies.
The birth of Jesus is timed to take place as close to midnight as possible. Following that, comes the usual shepherds and Wise Men. This means the plays finish in the early hours of the morning, with some churches singing until dawn…
Soon after, the usual Christmas day service begins – with lots more singing!
The rest of the day is spent with extended family. Children get new clothes, and lots of delicious food is prepared. It's a time for reconciliation and relaxation – well needed after a busy and late night on Christmas Eve!
You can support people who have experienced serious trauma get all the help they need with counselling, support groups, therapy and more.
The Women's support centre gift from CAFOD's World Gifts is an extremely powerful Christmas gift for just £50