Two CAFOD campaigners meet their MPs in Parliament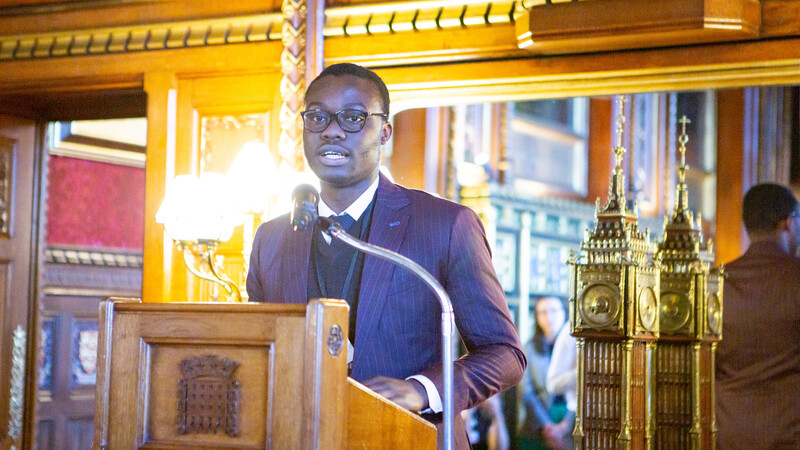 Chukwuemeka Nwachukwu, 26, from Bradford, and Dominic Smith, 20, from East Sussex, had the chance to talk to their MPs face-to-face in the seat of UK democracy, the Houses of Parliament, about why they volunteer with CAFOD.
Held in the grand rooms of Speaker's House, and hosted by the Speaker of the House of Commons, Sir Lindsay Hoyle MP, the event was a chance for CAFOD supporters to meet their MPs and to celebrate working with others for an end to injustice and a fairer world.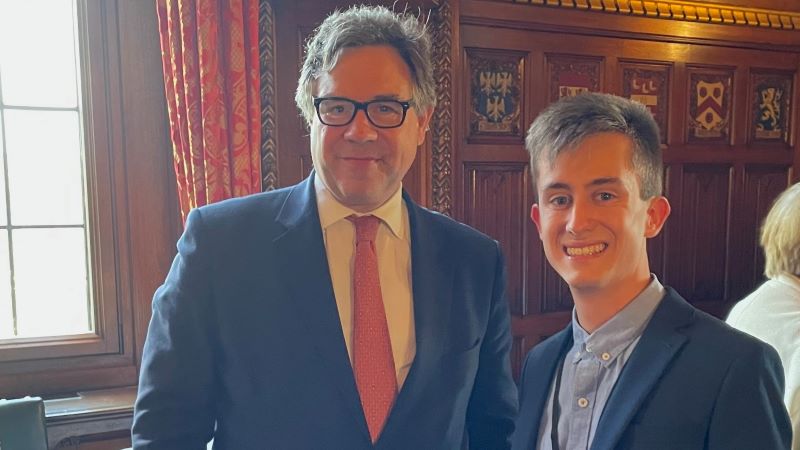 "Having the opportunity to meet so many other CAFOD supporters was a deeply invigorating experience. It was amazing to meet people of all ages and backgrounds who shared an interest in CAFOD's work to fight injustice and poverty. I explained the work of the organisation to my MP and why I am passionate about being part of it."

Dominic Smith, 20, who met with Jeremy Quin, MP for Horsham
Attendees were particularly inspired by the words of Chukwuemeka, who was invited to give a speech about his passion for changing the world. Chukwuemeka, who travelled to Glasgow to protest on the streets during COP26 in 2021, told the audience:
"I'm passionate about putting my faith into action. I try to show my faith. Just like Pope Francis says, everything is connected. We need to take care of the earth. I met with my MP last year. I try to inspire other young people. This quote from Jackie Robinson always helps me: 'A life isn't significant apart from its impact on other lives.'"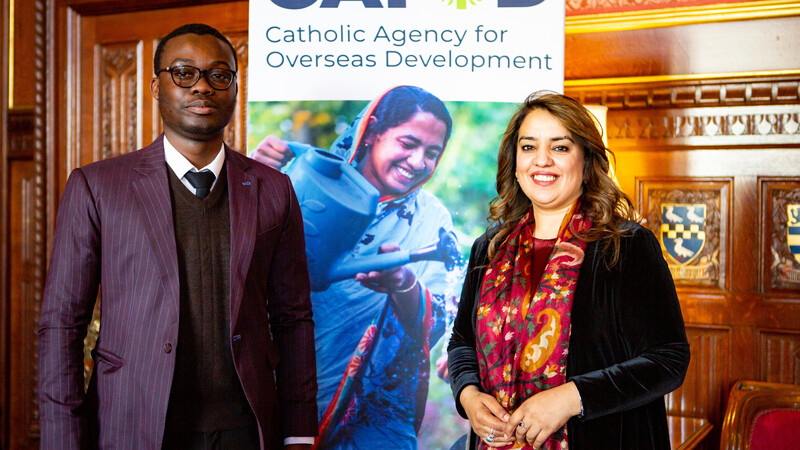 "I felt delighted and honoured to attend, and to speak to everyone present about my passion and involvement. I want to make a difference. I want to be part of a global movement for food security, peace and a sustainable future."

Chukwuemeka Nwachukwu, 26, who met with Naz Shah, MP for Bradford West
Could you campaign with CAFOD?
Dominic has a message for anyone who is thinking about campaigning with CAFOD:
"Being involved with CAFOD is a deeply enriching experience. Standing in solidarity with marginalised communities around the world is extremely important, but it will also offer you the chance to connect with others who share the same values and are keen to put their faith into action. These connections allow for a sense that you are part of something beyond yourself and you have the power to make a difference when you come together with others to tackle a common goal.
"I would encourage you, in whatever way you feel comfortable, to get involved with CAFOD's campaigns. It may change the lives of people you will never meet, and maybe even your own."