A sizzling summer recipe for laughter, happiness and hope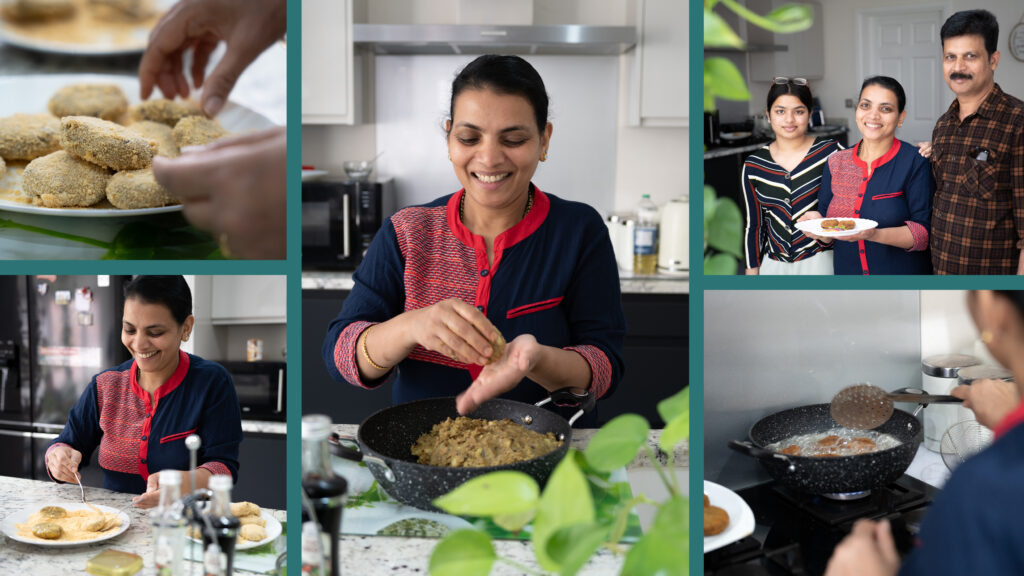 Nisha started volunteering for CAFOD in her parish two years ago. Despite her busy schedule as a staff nurse, she relishes the chance to put her incredible cooking skills to use for a good cause – read on for a special taste of one of her favourite summer recipes, tuna cutlets, and to hear how it helped bring her parish together after the pandemic.
One of my favourite things about summer is the opportunity it gives me to try out different recipes. When all the family get together for parties or picnics, I love watching videos to learn new recipes, and sharing different starters and curries. I mainly cook for my family, but I don't mind cooking for anybody who loves food!
That's why I'd like to share this recipe for my tuna cutlets – you can use these as a starter or take them to a picnic. These are a real treat for fish lovers!
What I love most about cooking is the way it brings people together. Cooking is how I first got involved with CAFOD too! It was when I heard about the world food crisis, that's when we decided to do an Indian meal for everyone in our parish to raise funds. All the community was involved – they came over to our house and helped us with the cooking and the table setting.
We prepared everything – we cooked some onion bhajis, we cooked fried rice and chicken fried rice and we made some other things like cakes and puddings. We had some entertainment in between while people were having food, kids were dancing and there was music. I think after the COVID pandemic everyone was waiting for the chance to have a social gathering!
New food, new friends, new laughter
It was a really blessed day. More than just all the food and everything – I never felt and had such an experience in my life. Doing something with my parish community, it really felt like we were reaching out to people who are really in need. It made me think about how we have all these facilities here, like food and water easily at hand, while in other places people struggle to get those things.
So I felt that with CAFOD we were helping others in Jesus' name – I could really feel that. It might be just a little help, but it gives you lots of happiness and satisfaction inside.
I hope you enjoy this recipe as much as me and my family do – and if you feel inspired to do something similar for CAFOD I know you will really enjoy that too! You will find new laughter, happiness and satisfaction inside, and you will know you are doing something for other people as well.
The recipe for tuna cutlets
Ingredients
Tinned Tuna – 500g
Potatoes – 500g
Onions – two, finely chopped
Finger chillies – one or two
Fresh ginger – 1.5 inches, peeled and finely chopped
Curry leaves
Turmeric powder – ¼ teaspoon
Black pepper powder – 2 teaspoon
Garam masala – 1 teaspoon
Eggs – 2
Breadcrumbs
Coconut or vegetable oil
Method
Boil the potatoes until they are well cooked and soft. Leave to cool for a few minutes, peel and mash well until smooth.
Heat one or two tablespoons of oil in a pan. Add the onions, ginger, finger chillies and curry leaves and saute them until everything turns golden brown. Add turmeric and stir well for one minute.
Add the tuna to the pan and stir well until all he excess water has been absorbed. Then, add the garam masala and pepper powder and stir for a couple of minutes.
Add the mashed potatoes to the pan and mix well with the other ingredients. Turn off the heat and allow to cool.
Beat two eggs in a bowl and prepare the breadcrumbs on a plate.
Take the mixture and mould it into round or oval shapes. Dip each cutlet in the eggs and then coat them thoroughly with breadcrumbs.
Heat a good amount of oil in a pan – enough to deep fry the cutlets. Once the oil is hot, add the cutlets one by one and cook both sides for just under two minutes each until they are brown in colour.
Serve with tomato ketchup or onion salad.