Freezing temperatures await refugees at the start of their Balkan journey
Laura Ouseley, CAFOD's World News Officer, recently traveled to Greece to meet refugees attempting to continue their journey through Europe, and the Caritas partners working with them.
As we drove up out of Thessaloniki, Greece's second largest city, and headed north towards the border with Macedonia, snow-capped mountains gradually came into view, the temperature dropped, and the landscape became increasingly barren.
I was in northern Greece to meet refugees who had already risked their lives crossing the Aegean Sea in overloaded boats and were now attempting to continue their journey through Europe. They had all saved up, borrowed money or sold their possessions so that they could make this dangerous journey in search of a better, safer life. They had already traveled at least 20 days to get there. For some it had taken much longer.
Meet Syrian refugee families whose lives were shattered as they fled the conflict
Every day at the border, coaches arrived with hopeful refugees.  Hassan, a Syrian teenager I met there told me that this part had been the most difficult. "I have been waiting for so long. It is boring and so cold", he said.
In Idomeni during the day it was -1 degrees, and a harsh wind quickly left us feeling tired and cold, but the night temperatures dropped to -9 degrees. I was told it would get much colder in February and March.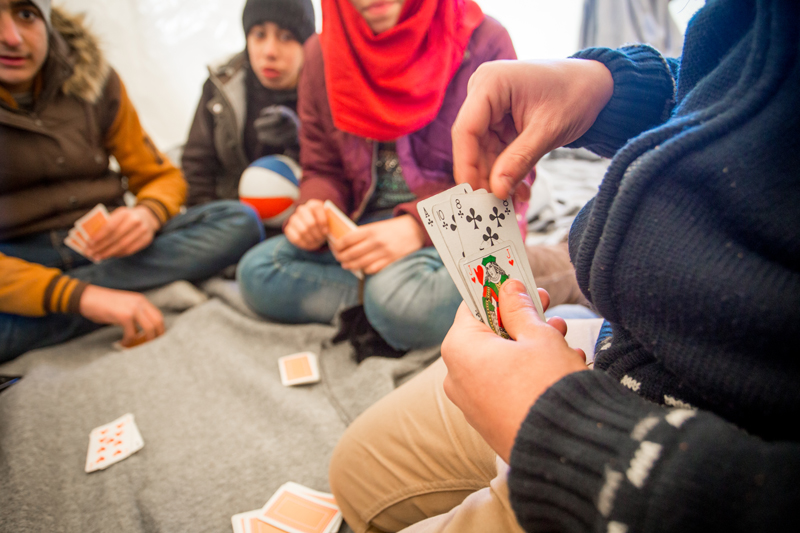 Despite the cold, the lack of information, and not knowing what challenges and obstacles lay ahead of them, many refugees were trying to pass the time by making friends, and playing games or listening to music.
"My family are in Syria, they cannot come out, they didn't have enough money to come out," Hassan told me. "The situation where I am from in Syria is horrible."
I met Hassan again the following day. He had stayed overnight in one of the shelters at the main refugee camp in Idomeni and was playing cards while waiting to hear when he would be able to cross the border. He said they were very cold during the night. "At night I don't feel my hands, never," he told me.
Please donate to our Refugee Crisis Appeal today
In Idomeni, CAFOD's partner Caritas Hellas is helping refugees by providing them with food and other items, including sanitation, warm clothes, raincoats and rucksacks. There are hundreds of refugees waiting at the camp in Idomeni. A few months ago their wait was on average four hours, now it is one or two nights.
The Macedonian border opens sporadically for a few hours and then, without explanation, is suddenly closed. Despite this, I was amazed at the calm with which the refugees waited. Having fled war-zones and traveled so far, most are just hopeful that they will eventually reach safety.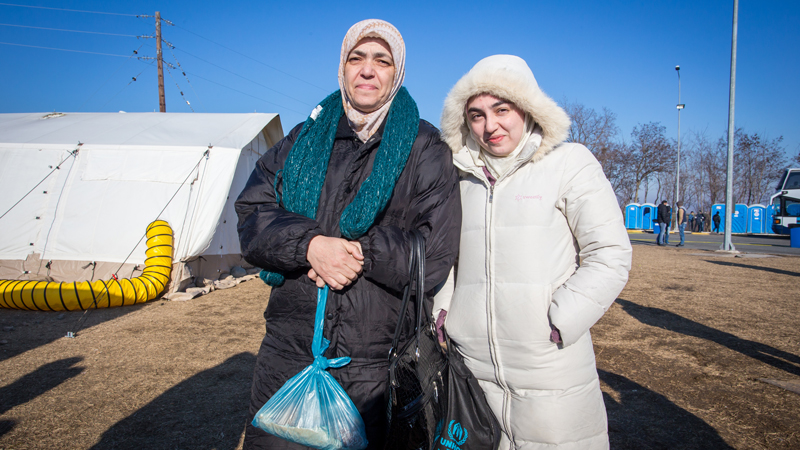 "It is so cold here. We slept on the bus [last night] because there was no room in the tents. Two blankets and I am still so cold", a Syrian woman travelling with her mother told me. "They told us it is really cold [further north] so we are a little bit worried about that."
Since November Macedonia has only been allowing Syrians, Iraqis and Afghans to pass through the border.  I spoke to an Iranian man travelling with his wife and one year old daughter who was frustrated by these new rules. "Why do they make a difference between people?" he said. "We face the same difficulties. If I had a good life I wouldn't leave my country."
Visiting Idomeni and hearing so many stories of courage and hardship from refugees, and seeing the conditions in which families were having to live, made me see clearly how helping refugees is an unquestionable response to the migrant crisis created by conflict in Syria and elsewhere. It enables us all to put into action some of CAFOD's most treasured values – those of compassion, solidarity, and perhaps most importantly, human dignity.
Returning to my hotel from Idomeni I soon warmed up with a hot shower and tea, but couldn't stop thinking about the hundreds of women, men and children who wouldn't have access to such luxuries, and were facing a freezing night in Idomeni.
If borders throughout Europe continue to slam shut for refugees, the need to support them will not disappear. Greece, in particular Athens, could face a backlog of refugees still hoping to seek asylum in Europe. Their need for shelter, bedding, food, warm clothing and other emergency items will no doubt remain.
See our interactive story of families torn apart by the refugee crisis