Lost Family Portraits: meeting Souraya's family
Nana Anto-Awuakye is CAFOD's World News Manager. She recently met families living in the Bekka refugee camp in Lebanon as part of CAFOD's Lost Family Portaits project.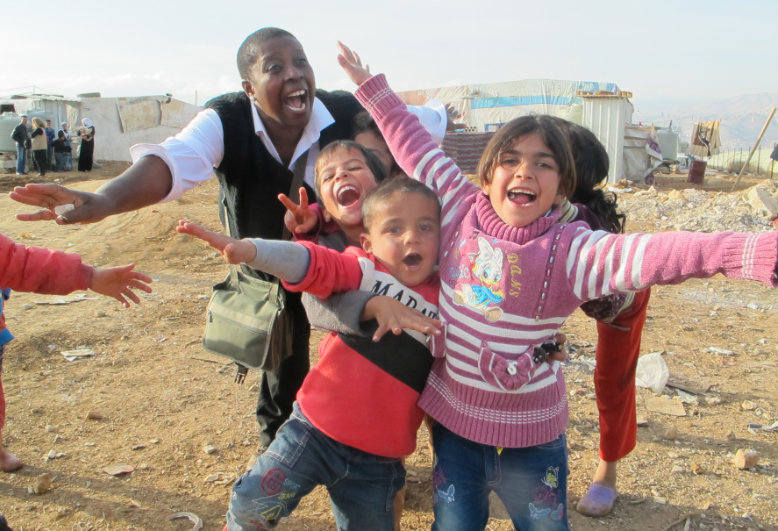 Last Christmas, various family members snapped away on their latest mobile phone cameras, and we all dutifully posed for the camera. I asked for the unflattering photos of me to be deleted, my sister refused saying, "It's Christmas, and we are all together."
Only a few weeks earlier I was in Lebanon's Bekka valley, just nine kilometres from the Syrian border. I was working with our partner Caritas Lebanon Migrant Centre, the photographer Dario Mitidieri, and the creative agency M&C Saatchi to photograph family portraits of Syrian refugees inside some of the informal camp settlements in the Bekka.
Our arrival with the photography crew creates an air of excitement, as children run out from the labyrinth pathways in between the tented dwellings, as if the Pied Piper were calling them.
The camp leader, or 'Chawish' tells me: "Every family here has someone missing; they are either dead, kidnapped, or trapped."
The photography project aims to reflect just that, the 'missing', by featuring empty chairs or unfilled arms.
As each family walks onto the black canvas 'pop-up studio', they take off their shoes, insisting that it was fine for them to do so, as they wanted to respect the 'home' that they had walked onto, as is their custom. The scattered shoes around the canvas are a poignant reminder that so many families have to walk over the mountain range in the distance to reach safety in Lebanon.
Listening to Souraya's story
"The airplanes were striking us as we sat in the bus. The bus could go no further and left us on the mountain to walk the rest of the way," Souraya told me.
"I was so afraid I couldn't tell a story to the children, I couldn't laugh and tell them everything was okay."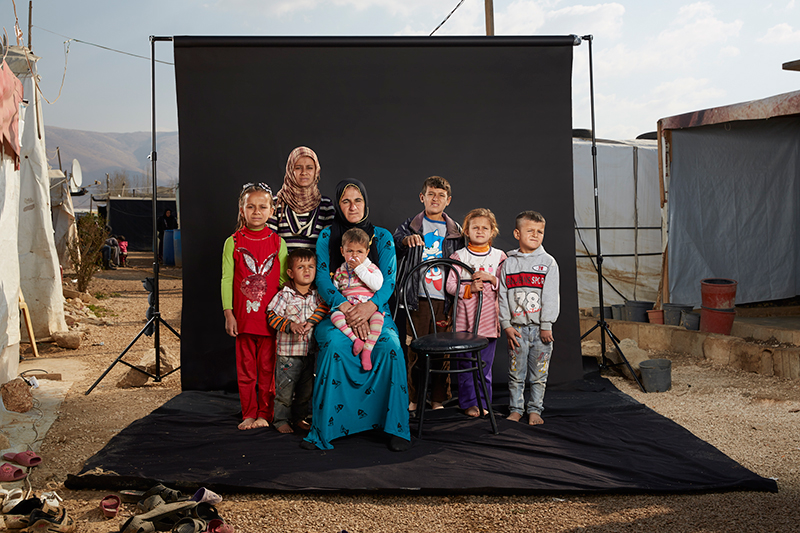 Souraya is one of the ten family members who we photograph for the project. Inside her tent, her seven children sat close by her, her youngest children clinging onto her dress and not letting it go. Her body, straight-backed, firm muscular arms, and strong hands. Her piercing blue-green eyes stared into the distance. She holds out her palms and says: "My hands are being eaten by the fire." She explains what she means: her hands have to do everything to make sure that her family survives.
See more families' portraits and read their stories
Lebanon is said to be half the size of Wales with a population of around four million. Today at least one in four people in Lebanon is a Syrian refugee. As the war enters its sixth year, Souraya is one of nearly 4.3 million Syrians living outside of her country, not knowing when she will be able to return home.
Two years ago, Souraya's husband told his wife to take their seven children and flee to Lebanon. They kept in regular contact – each call, she hoped would be the one when he told her he was on his way. Five months ago, he tried to join his wife but the bus he was travelling on was hit by a missile. He sustained serious injuries and right now is lying in a hospital bed far away from the camp in Lebanon.
"We speak on the phone, my husband gives me courage, and he tells me that everything is going to be fine any day soon.
"But, I am not optimistic that he will be able to work again, many bones in his body were smashed, because of that missile," says Souraya.
Donate to the CAFOD Refugee Crisis Appeal to help families like Souraya's living in refugee camps.
Harsh winters
The informal settlement where Souraya lives is on flat waste ground about the size of three football pitches. The makeshift tents here made of timber frames, and the walls made up of cardboard, plywood, and rugs, give little protection from the snow and biting cold winds.
Souraya tells me that she has a wood burner but no fuel for it, so she will go in search of wood with some of her older children.
"Winter is difficult, the tent is cold, the children are cold. We need help with winter clothes and blankets. When it snows, what to do?" says Souraya.
Temperatures here are plummeting, and all the families I meet talk about the harsh winter and their struggle to keep themselves warm. Our partner, Caritas Lebanon Migrant Centre, has supported Souraya's family and many more with blankets and mattresses, as well as food vouchers.
It's hard to think where there might be hope for Souraya and her family, and for the millions of other Syrians. Looking at the photographs with the empty chair, or arms is heartbreaking. But, in every photo lingers a sense of hope, my Christmas photos, speak of hope for the future for my nieces and my son, hope for continued good health of my elderly parents. Despite everything, Souraya also holds onto a small snap-shot of hope; "I want everything back like the past. All of us in good health. All of us happy."