Rachel McCarthy works in the CAFOD Theology Programme. She reflects on the inspiring prayers, gifts and actions of the Catholic community throughout this Year of Mercy.
At the beginning of the Year of Mercy, Pope Francis proclaimed, "May the balm of mercy reach everyone, both believers and those far away, as a sign that the Kingdom of God is already present in our midst!"
I have been amazed by the ways you have borne witness to God's mercy this year, through the corporal and spiritual works of mercy. Thank you for all you do to stand alongside our sisters and brothers living in poverty. Here, we celebrate how you have brought mercy to your local communities and our world.
Download Year of Mercy prayers
Feed the hungry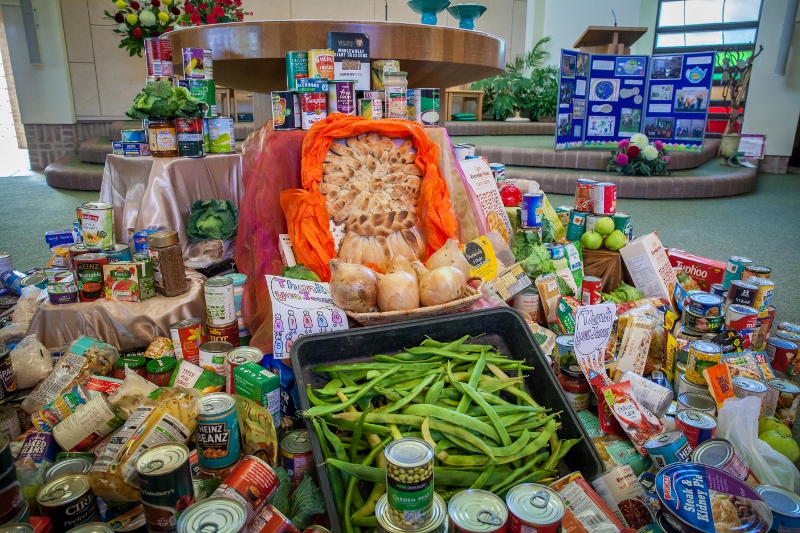 This Harvest, St John Bosco's parish in Woodley offered gifts to people who are hungry around world.
Rita Belletty said, "This year we held a creation mass and Harvest offering. It is a token offered back to God in thanksgiving for the gift of fruitful earth, sun and water, joined by our own labour, making us co-creators with God. The second offering was a globe which was taken up to remind us that it is the whole world we are praying for."
St Thomas More's Catholic Primary school, Havant, held a special service to pray for people around the world at Harvest. The children offered raspberries and tomatoes which they had grown with their own hands. Patrick, a CAFOD Education volunteer, was impressed by the variety of food in the offertory. Patrick said, "We lit candles to unite our prayers to God for a fruitful harvest across the world." Catholics in Norfolk visited a local foodbank for single people and families who are struggling at home. They helped to sort food and distribute donations, taking care that nothing was wasted.
Buy the World Gift of a Vegetable Garden so families around the world can enjoy a healthy, nutritious diet.
Give drink to the thirsty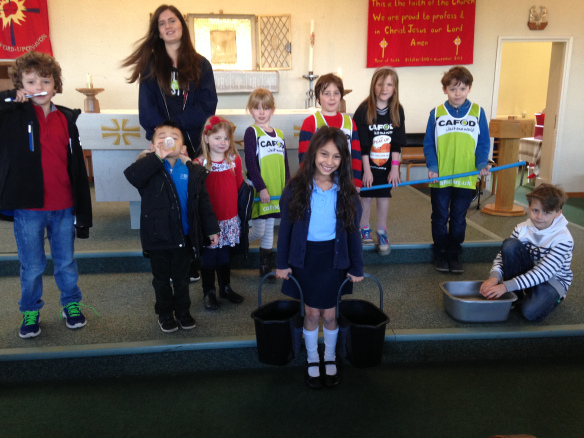 On World Water Day, children and parishioners in Leeds walked three miles along a canal in solidarity with those do not have access to clean water.
Joanne Taylor, CAFOD representative in Leeds, said, "Being able to turn on a tap and have clean water is something we take for granted, but having to walk miles every day to collect water is a daily reality for so many people around the world. That is why this year we walked for three miles carrying buckets of canal water in solidarity with our global brothers and sisters."
During Lent, the children's liturgy group at St Gregory the Great and Our Lady of Peace in Stratford upon Avon performed a play about water poverty. The children showed how girls struggle to finish school from a lack of water. Their support is helping us to turn on the taps for communities across the world.
Download children's liturgy resources
Give the World Gift of Water for a family and help protect them and keep them healthy.
Clothe the naked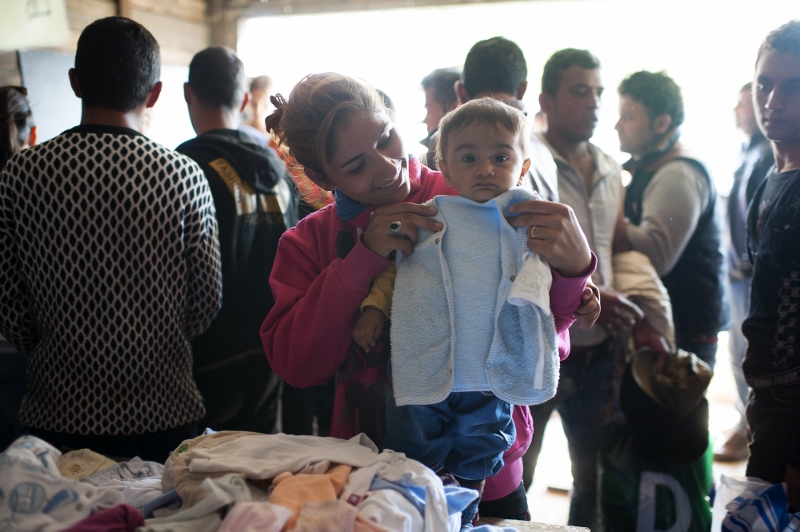 In July, Our Lady of Valley parish in Clitheroe, Lancashire, came together for a 12 hour knitting session. Parishioners of all ages gave up their time to knit blankets for Syrian refugees.
CAFOD supporter Anthony Brown said, "There were knitters and natterers and most did both. Men came too, some who could already knit and some who had never knitted before. When the winter comes, people will need these blankets."
Download refugee resources for children
Welcome the stranger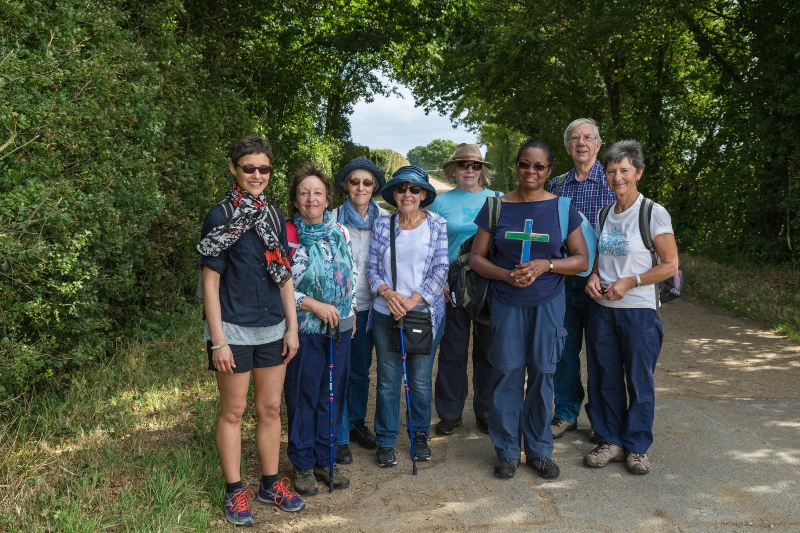 Thousands of you have made Year of Mercy pilgrimages to welcome refugees. CAFOD volunteer John Tweddell took part in a pilgrimage with fellow parishioners from across Portsmouth diocese.
John said, "It was a long, windy walk with our cross and banner but we chatted to people we passed and told them about our commitment to pray for refugees and peace.
"Our prayers asked us to imagine how we would feel if we had lost or been separated from our own families- heartbreaking!"
Their pilgrimage ended with Mass at Portsmouth cathedral. "We were looking forward to a welcome and a hot drink. But this made us think about our fellow brothers and sisters making journeys because of persecution, war, drought or floods. Will they find a welcome when they finish their journeys?"
Download our Advent service and pray for refugees
Care for our common home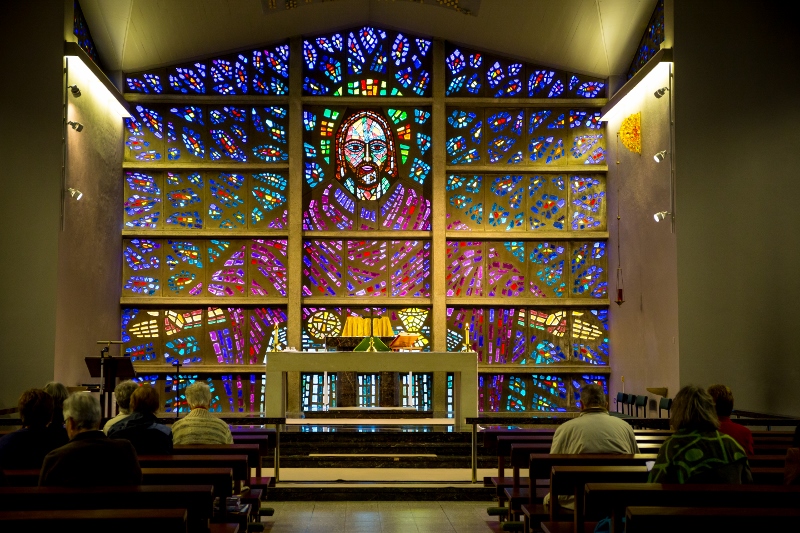 Pope Francis has this year suggested a new work of mercy: to care for our common home.
Parishioners from Saint Henry Morse in Norfolk celebrated the season of creation, which began on the World Day of Prayer for the Care of Creation on 1 September until the feast of Saint Francis of Assisi on 4 October. The parish celebrated with a prayer vigil for creation, ending with a final hour of adoration of the Blessed Sacrament.
The parish were responding to Pope Francis' special request to "take good care of creation– a gift freely given– cultivating and protecting it for future generations".
Thank you so much!