Renewable energy changes lives in Zambia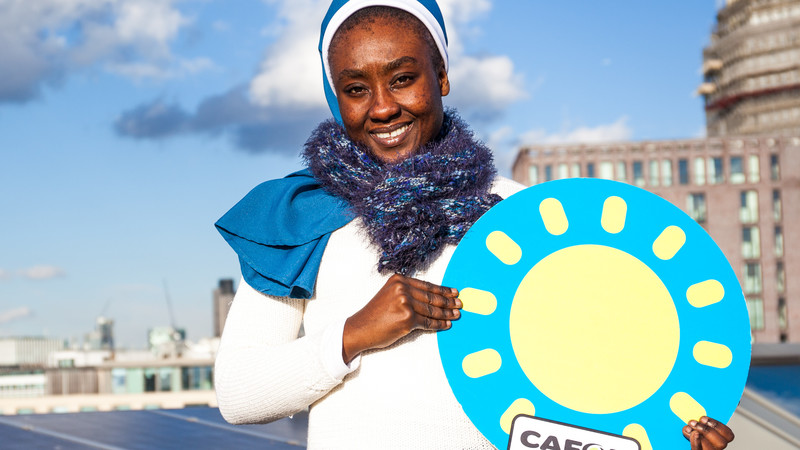 Sister Clara is a nun from Zambia. She shares with us how climate change is becoming the main cause of poverty and how renewable energy and your support can make a difference.
Zambia has in recent years experienced extreme shifts in weather patterns. These shifts are resulting in profoundly negative impacts on the economy.
The poorest people living in rural areas, like Mbala in Northern Zambia, are most affected because almost everyone is dependent on farming as their main source of living. In addition, most people do not have access to electricity either because it is too expensive or because the country cannot afford a national grid. So the people of Mbala, and other such villages, are often left without this, the most basic of necessities.
Therefore, as a religious congregation working in Mbala, we have been helping the poorest people. We have been supporting them both materially and financially through the Households in Distress Project (H.I.D).
Sign up now to campaign with CAFOD
A local response to a global call on climate change
The H.I.D project roots itself in Pope Francis' encyclical on climate change Laudato Si, where he invites everyone to care for our common home. It aligns with the Zambian government's National Adaptation Plan of Action (NAPA) which responds to the United Nations Framework Convention of Climate Change (UNFCCC).
The H.I.D project get support from NGOs like CAFOD. It empowers young people especially, with materials and funds to start small businesses. We try, in a small way, to help them compensate for the loss they experience due to poor climate as it becomes more difficult to primarily depend on farming. We train the people in entrepreneurship skills and sustainable farming skills (sustainable agriculture).
Sustainable farming and renewable energy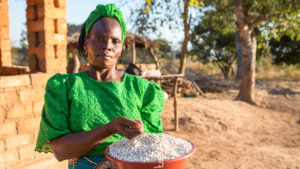 Before any support is provided, people receive training on sustainable farming methods. Those methods enable good yields without damaging the fields so that in the long-run the fields remain fertile and usable (sustainable agriculture); they are trained in making organic manure that is safe for the environment. They are also provided with farming inputs such as improved seed varieties.
The financial support is used to acquire equipment like solar panels. This equipment enables the young people to run their small businesses. The most common businesses which the young start include: tailoring, small restaurants or barbershops.
Access to renewable energy has made a big difference to many young people in Mbala. Thanks to the income from their business, they support their families and can see themselves through school. And, at the same time, contributing towards the fight against climate change.
Sign our Power to be petition calling for more support for local, renewable energy.
A life transformed by renewable energy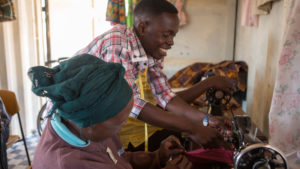 There is a young man in Mbala, Patrick, who, when he was very young, didn't have enough to eat. Without clothes or shoes, Patrick was sent by his mum to the Orphan Centre in Mbala town. The centre fed him, clothed him and gave him life skills.
Thanks to our partners and your support Patrick learned tailoring, could finish his education and understood how to grow crops on his families land. Patrick now teaches basic tailoring to people living with disabilities in a school run by the Sisters of the Sacred Hearts of Jesus and Mary.
It is very inspiring to see the change made in people's lives, it gives me a sense of purpose and at the same time a greater appreciation of the work undertaken by projects such as ours (H.I.D) and CAFOD who supports us.
There is still a very long way to go in dealing with issues concerning climate change but it is very important to recognise and appreciate the efforts that are being made. The good news is that the people in Zambia are waking up to this reality. People are beginning to do something about it as awareness continues to grow.