Cross-continental learning on the value of volunteers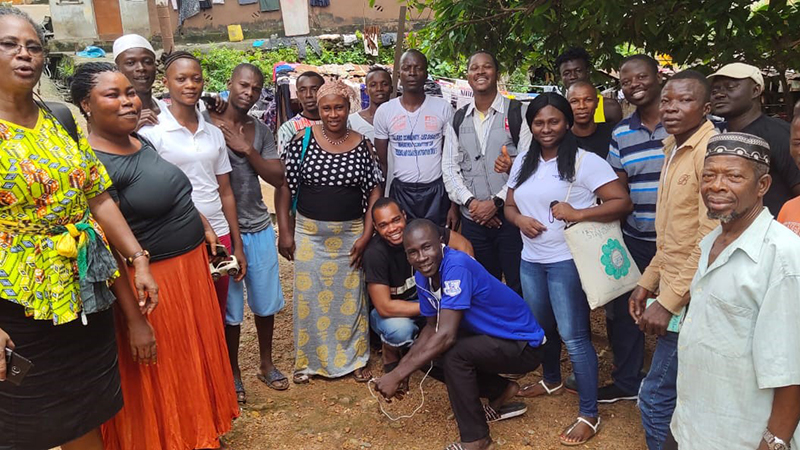 Local community volunteers play a vital role reaching out to those in need, playing a constructive role in their communities. Janet Crossly, from the Humanitarian Development team tells us about the passion of these volunteers for helping others in their communities.
When Cyclone Idai swept across southern Africa in March this year, it left a trail of destruction in its wake. Armed conflict in north-eastern Nigeria has caused thousands of families to flee their homes. And the Ebola crisis in West Africa devastated communities affected by the disease. What do these three very different emergencies, have in common?
In all of them, local community volunteers played a crucial role in the response, allowing CAFOD and its local experts to react much more people, much quicker.

"In my context volunteers were the first people who started humanitarian work, and they made it what it is today. So volunteering is important, especially for people who have passion to help others who are in distress. In Caritas, volunteers assist us so much in the work that we do. Funds are often very limited and at times we cannot reach out to everyone who is in need, and we need volunteers to be able to assist us to spread our means and assist all those that need our help."


Takura Gwatinyanya from Caritas Zimbabwe

The crucial role of our volunteers
On the 5th of December 2019, we celebrate International Volunteers Day. The IVD 2019 theme is about inclusion, and the way that volunteering can strengthen solidarity in communities around the world.

For the past 18 months, CAFOD, supported by the EU Aid Volunteers initiative has been working with 10 Catholic organisations across Africa to improve how we work with volunteers in emergencies. This project has involved various activities, from training of staff and volunteers on humanitarian quality standards, putting in place new policies and procedures to make sure that volunteers are managed effectively, safely and respectfully.

Through this project, I have heard stories from many different volunteers. They are often very different people, using different skills, volunteering in very different contexts, and for different reasons. But they all have the same passion for what they do, and for helping others in their communities.
Meet the volunteers
Earlier this year I met Gladys, who has been volunteering in her community in Zimbabwe for 25 years, and is now working with Caritas Harare as a community health volunteer. Her role involves educating local families on nutrition and healthy food, and she has been happy to see the improvements in peoples' health over the years.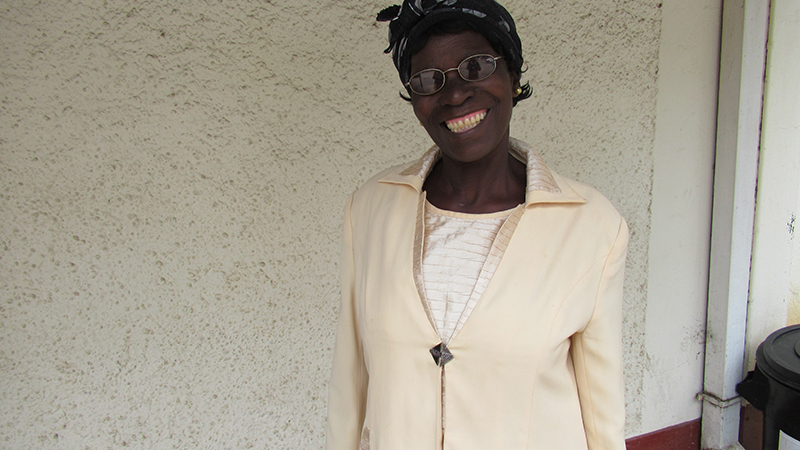 "I expect to continue with my volunteering, I will leave it when I die! I love to talk to people, to help people."

Gladys
On the other side of the continent in north-eastern Nigeria, local businessman Genesis has been volunteering for Justice Development and Peace Commission of Yola since 2014. He works in a local camp supporting families displaced from their homes by fighting.
"When you see people suffering, it touches you – and that is one thing that still motivates me today, because there are things that can happen in one's life. These people who are displaced, they are here not because they want to be here. We can all find ourselves in another situation tomorrow."

Genesis, volunteer for Justice Development and Peace Commission of Yola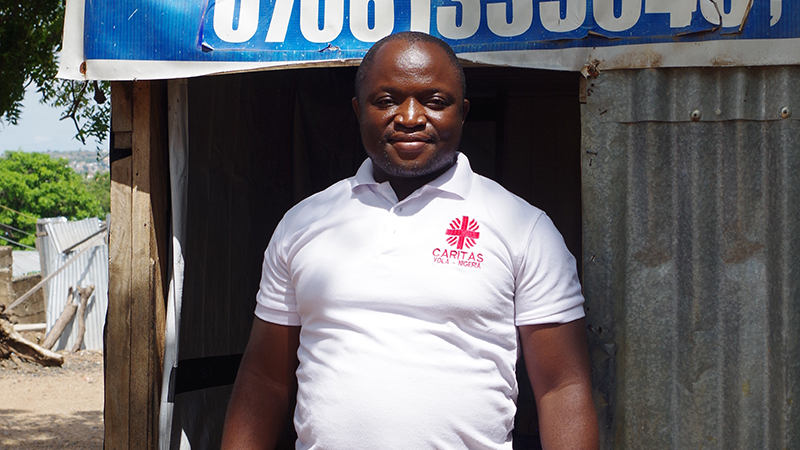 Learning on volunteering
As part of the EU Aid Volunteers PEOPLE project, CAFOD has been organising ways to share learning on volunteering between church partners across Africa. This includes setting up mentoring links between more and less experienced staff, and organising exchange visits so that staff can learn from other organisations practical experiences.
Earlier this year, Eliza Sillah from Caritas Sierra Leone visited IDP communities in north-eastern Nigeria to see how volunteers like Genesis are supporting Caritas' work in Yola. Travelling in the other direction, Takura from Caritas Harare travelled to Sierra Leone to learn from how the local Caritas worked with volunteers during the Ebola response and more recently.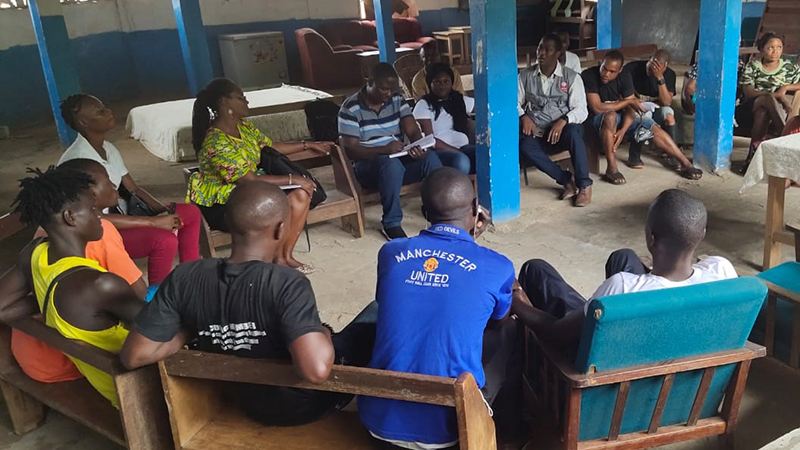 It was an eye-opening experience for both of them. After her visit, Eliza discovered how important and useful volunteering can be when relevant policies and structures are put in place to effectively manage the process. She says "even though the environments are different, some issues are the same and learnings can be adopted in other organisations."
"I was challenged and at the same time moved by the passion, knowledge and dedication of Volunteers in Sierra Leone. The discussions and learning from the community volunteers and Caritas staff gave me more time to reflect on the trainings and appreciate the knowledge and skills we now. And this has given me the reassurance that we are on the right track in Zimbabwe."

Takura, Caritas Harare
Find out more about how you can support CAFOD's emergency work.