World Gifts: give the gift of love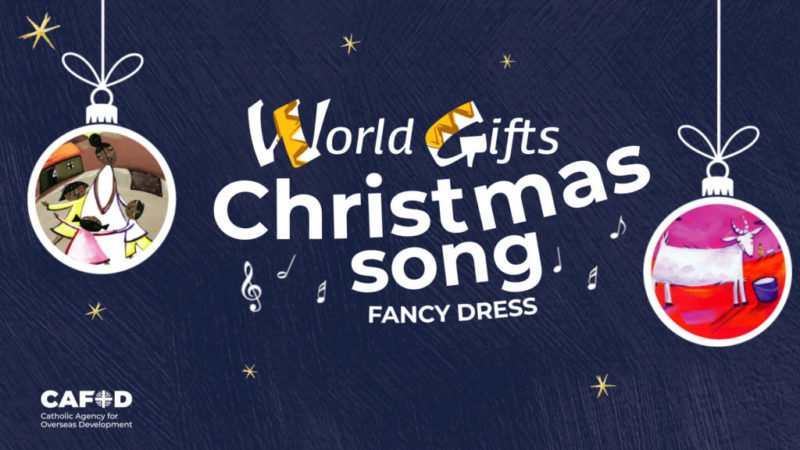 As we get swept up in all the manic preparations this festive season, it is important to remember the true meaning of Advent and Christmas. Sinead Callaghan, Young Leadership Coordinator at CAFOD, believes it is an opportunity to spread love and give to those in need.
I can't quite believe that we're already one week into Advent. The Christmas season has snuck up on me once again! But before I get too excited about Christmas day itself, it is important to remember what Advent is all about. Advent is a time of preparation. During Advent we remember that God sent us the very first Christmas gift – a joyful gift for all the world – Jesus.
Now that 'It's Beginning to Look a Lot like Christmas', does our celebration of the Advent season today still reflect that joyful gift?
Each year we light four Advent candles. With them, we have an opportunity to remind each other of the true meaning of Christmas, to reach out to our global family, and spread messages of Hope, Peace, Joy and Love – the four things our candles represent.
Often, these messages of Advent are lost among decorations and mulled wine. Perhaps it is time we reconsider how we can truly spread 'Joy to the World' this Christmas.
Explore our festive Advent resources
Shop sustainably this Christmas
Christmas is my favourite time of the year. The streets sparkle, cheeks are rosy, there's carol-singing and cosy evenings. But we are also surrounded by devious adverts that tug on our heartstrings, sucking us in to frantic shopping and indulgent festivities.
With all the manic preparation, we often get caught up in our own little Christmas holiday bubbles. Sometimes we forget to take a step back and look at the bigger picture. All year I try to think sustainably when I shop but I find it hard to not get swept up with all the gift-giving of the Christmas season.
Green gifts you can buy this Christmas
Pope Francis reminds us that our "throwaway culture" is at the root of an ecological crisis which is harmful to both our global neighbours and the Earth.
We are encouraged to be generous at Christmas time, but it is crucial to consider what generosity looks like. I find myself asking the question: What gifts can we buy that truly reflect the joy of the Nativity?
Browse our range of virtual World Gifts
Have you taken part in our World Gifts Christmas song quiz?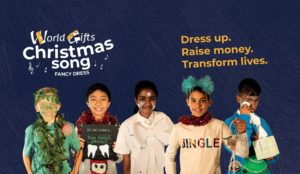 This Christmas, schools around the country are organising Christmas song fundraisers to raise money for CAFOD's World Gifts. They are dressing up as their favourite Christmas songs or, better yet, challenging their teachers to dress up!
Christmas carols have always been a huge part of my Christmas celebrations. From our Nativity show at school, to our Christmas Eve carol service at church, there's something beautiful about uniting with your community to sing 'Away in a Manger' and 'We Three Kings' (and the rest!).
While this fundraiser is a fun way to dress up and spread joy to others, the meaning and seriousness that lies behind the fundraiser remains. The real value of Christmas is to reach out to those who are excluded and to give to those in need.
CAFOD's World Gifts are a great way to help young people put these values into action. They are charity gifts that really do make a genuine difference, helping those who need help most.
Take part in our World Gifts Christmas Song quiz
Let's truly make this Christmas the most wonderful time of the year!
When we reflect on the Nativity, we remember the difficulties Mary had in finding a safe place to give birth. Today, there are mothers and children across the world in similar situations: new mothers who need medical treatment and babies who are at risk of becoming malnourished.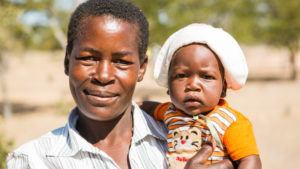 In Zimbabwe, Delinah brought her seven-month-old baby, Muzina, to a mobile health clinic supported by CAFOD. Delinah was worried that Muzina wasn't growing – Muzina was severely malnourished. Through the mobile clinic, Muzina was referred to the hospital for an emergency nutrition paste made from peanuts.
Access to medical care like this is essential. Our Healthy mum and baby World Gift ensures access to medical treatment for pregnant mothers and their new-born babies. Purchasing one for a family member or friend can really make a difference to more people like Delinah and Muzina.
Through the birth of Jesus in a stable God showed us that, no matter where a child is born, we are all His children. We all deserve the gift of a healthy, happy life.
Give the gift of love this Advent
Choose your favourite Christmas carol, get dressed up, and take part in our Christmas Song Fancy Dress Fundraiser.