'Volunteering helps me feel more connected – even in lockdown'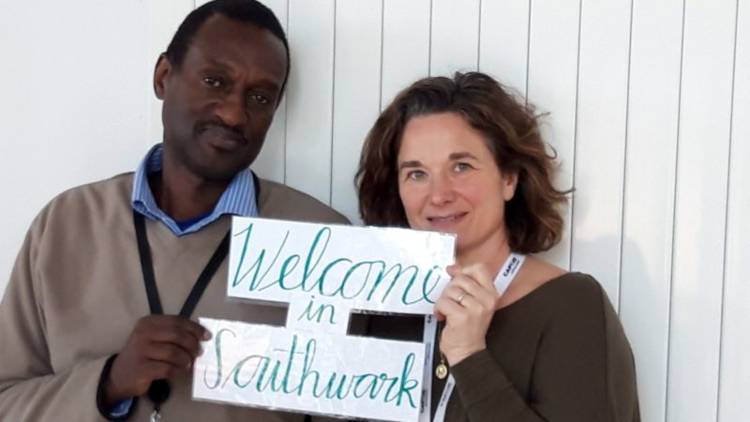 Thomas Kimaru is a CAFOD volunteer in Southwark. This Volunteers' Week, he describes how he was first inspired to volunteer by his parish priest in Kenya, and why he thinks it's important to stay in touch during lockdown.
In Kenya, where I grew up, when you are going to church on Sunday you wear your very best clothes – your Sunday best. And you'd have the best meal of the week on Sunday afternoon.
A typical Kenyan Sunday lunch would have meat, chicken or beef, because you might not be able to afford to buy it every day. You'd get dressed up and you'd get together for a special meal. People would look forward to this meal all week.
One Sunday our priest, Father Paul, asked us to go to the hospital after church and just say hello to some people who were staying there. That's all he asked, just to go and say "Hello" and "How are you?".
But I didn't go. I didn't go because I thought: home is in this direction, the hospital is in the other direction – somebody else can go there, I don't need to go myself. It was a big congregation, so I thought some other people in the congregation would go.
The next week Father Paul thanked the people who went and said how many of them there were – 10 out of 250. You can imagine the reaction from the crowd. We were all shifting about in our seats and mumbling, feeling embarrassed and guilty because we didn't go. I felt a bit mean because I just went home to relax. The parish priest asked me to go and visit people in hospital and I didn't, even though I had the time.
It was a memorable experience for me. It keeps coming back to me, but it doesn't make me feel guilty – instead, it reminds me to think: "What have I done recently? Have I done enough?"
Learn more about volunteering with CAFOD
The value of volunteering
Many years later, I came to England and started working, and I was able to give £5 or £10 a month to help CAFOD and a few other charities. Then I thought: if I volunteer for three hours a week and work hard to help, that could be as valuable as if I donated £30. So I went on the internet to look for opportunities to volunteer, and that's how I found CAFOD.
CAFOD is very unique in that it is the official charity of my church. In terms of charities it's a work of mercy for me, whether spiritual or corporeal. If CAFOD is helping people who are trying to feed themselves, then if I work for them I am doing a work of mercy. It is like I am giving water, hygiene, food and sanitation to people who need it.
Donate to our Coronavirus Appeal and help ensure the most vulnerable have the support they need to survive
My perspective really changed when I heard about people who are volunteering overseas, like Sr Consilia in Zimbabwe. I looked at that and imagined that, in my home, my confirmation and holy eucharist may have been done by nuns like her. It took me back to Africa and I thought I never knew it could have been volunteers like that that affected my life the way they did. I thought about how these volunteers shape people's lives.
It's very satisfying to know that I am volunteering in just the same way that people overseas are volunteering. It's motivated me at a personal level to, as much as I can, start recruiting volunteers for my parish. That's how CAFOD has really helped. Working with the coordinators of the volunteers here I see how we can influence a lot of people in a very positive way, people who use their time and their skills to serve their community in a very selfless way.
Keeping up the spirit in lockdown
Since lockdown began, we have been making sure to stay in touch. I read the daily readings of the church with my wife, and my parish has been organising adoration on a daily basis, and Mass on Youtube every week.
I've been staying in touch with CAFOD too. I've written to parliament and retweeted their petition. I've been enjoying some very nice webinars for children on Thursday. I've spoken with the Head of International Development and the Head of Emergency Relief online.

They're keeping up the spirit. It's nice to interact with people on the internet. It's helping me feel more connected, even in lockdown. Lockdown is bad, but it means I can connect to people I otherwise wouldn't have been able to connect with. It opens a channel. People in CAFOD want to keep in touch with volunteers.
Give just as much by giving your time
Now, I look for opportunities to volunteer every week an hour or two of my time where I am able to. If someone in the church says they need something, I'll try and help. I am always trying to get people to volunteer, and tell them you can give just as much by giving your time. It makes me feel good because, even if I don't have money, I know I can help.