April 12, 2017
As we continue to celebrate the Easter Season, Jessica Coffin, CAFOD's Communications Officer, shares a hopeful story from Zambia.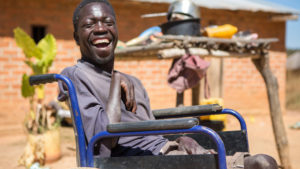 In the days leading up to Easter Sunday, I came across a story. A story that was full of obstacles and hardship, but also full of hope. It reminded me of the hope that comes with Easter.
From the age of five, Mulenga lived with his grandfather in the village of Chushi in Mbala, Northern Zambia. Life was challenging. Mulenga had complex physical and mental disabilities but he did not have a wheelchair, so his only way of moving around was by rolling his body or being lifted by others.
Donate to CAFOD's Lent Appeal Continue reading "Your Lent donations – a new chapter of life for thousands of people in poverty"