November 19, 2018
Today is World Toilet Day. Abigail McMillan, in CAFOD's South West and Wales team reflects on how the humble toilet is an often overlooked life-saver.
Toilets are generally a private subject; my mum would say not to be discussed at the dinner table. But professionally, World Toilet Day makes perfect sense to me. The world can be changed by toilets, and the Church takes toilets very seriously.
Keep a community safe with the gift of a toilet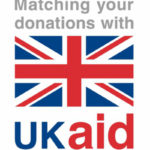 Following the tremendous response of Catholic parishioners in England and Wales to CAFOD's Family Fast Day Appeal during Lent 2016, the UK Government doubled the nearly £5m that was donated by the general public. With this, we were able to instigate a water, sanitation and hygiene programme in the Democratic Republic of Congo, Uganda and Zimbabwe.