Pedal Against Poverty 2015
Jon Stricklin-Coutinho, Manager for Westminster Diocese, tells us why you should Pedal Against Poverty.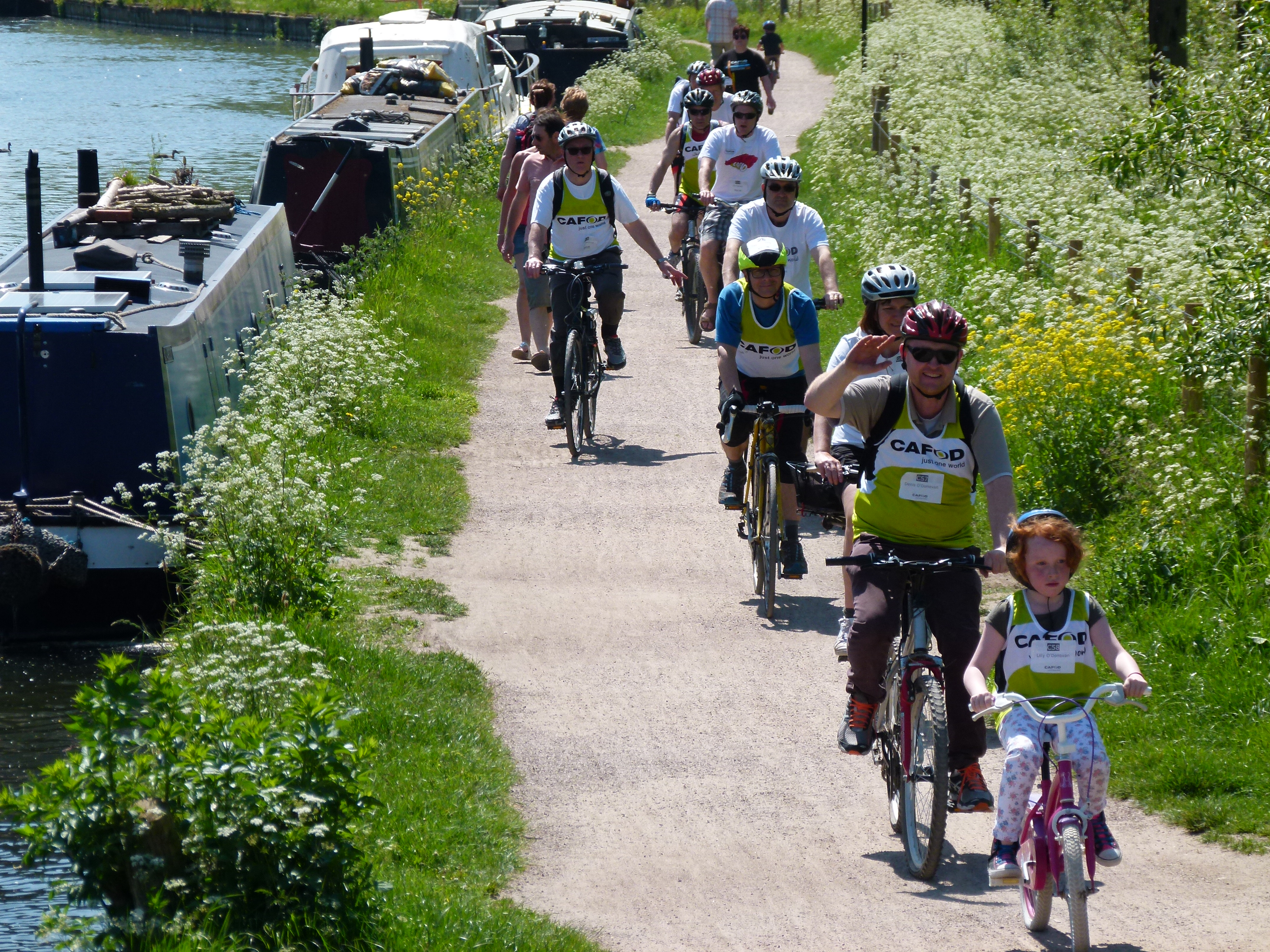 For nearly a decade CAFOD supporters from Westminster, Southwark and Brentwood have come together in the Lee Valley to Pedal Against Poverty. On Sunday 7 June almost 200 cyclists will be taking over the tow paths for a morning, just as they do every summer. Incredibly, in this ninth year of the event, our combined fundraising total over the years should reach £100,000!
Sign up to Pedal Against Poverty on Sunday 7 June 2015
So what can attendees expect on the day? As CAFOD's Manager for Westminster Diocese, my day starts at Ponders End Lock – the starting point of our more challenging 19 mile route – at 10:15am. Riders can also choose the more family-friendly ten mile distance, with these riders congregating at Cheshunt. There's a real party atmosphere as everyone picks up their ride number, with our volunteers registering the most spontaneous of our riders and giving out last-minute CAFOD vests and t-shirts. My responsibility is the safety briefing (we are cycling along a tow path after all!) and checking that everyone has a helmet. Then there's the obligatory group photo before the shout is given and the cyclists are off!
A picnic at the halfway point
It's a great sight to see hundreds of cyclists in their CAFOD vests stream down the towpaths. I haven't got long to hang about though, because my second big job of the day is setting up the gazebo ready for lunch.
Each year, all the riders from both the long and short rides get the chance for a break and refresher at the Broxbourne. This is the half-way point, and we all meet up here for lunch. There's a real sense of community spirit as riders, young and old, veterans and newcomers, enjoy a picnic and chat about the thing that has brought them all together – fundraising to support our partners in developing communities overseas.
"It's a very active way to raise funds"
"I've always been a keen cyclist but I'm 76 now so it doesn't get any easier!" said supporter Molly Warren. "But this is a lovely fun day out for everyone, raising awareness of CAFOD, and it's a very active way to raise funds!"
At last year's event, husband and wife team Michal Glogowski and Eleanor Heans-Glogowska decided to Pedal Against Poverty on a tandem bike. Michal told us: "We decided to ride in tandem so Eleanor doesn't get lost! But in all seriousness, we thought it would be fun to ride in tandem and we would get more sponsorship for CAFOD."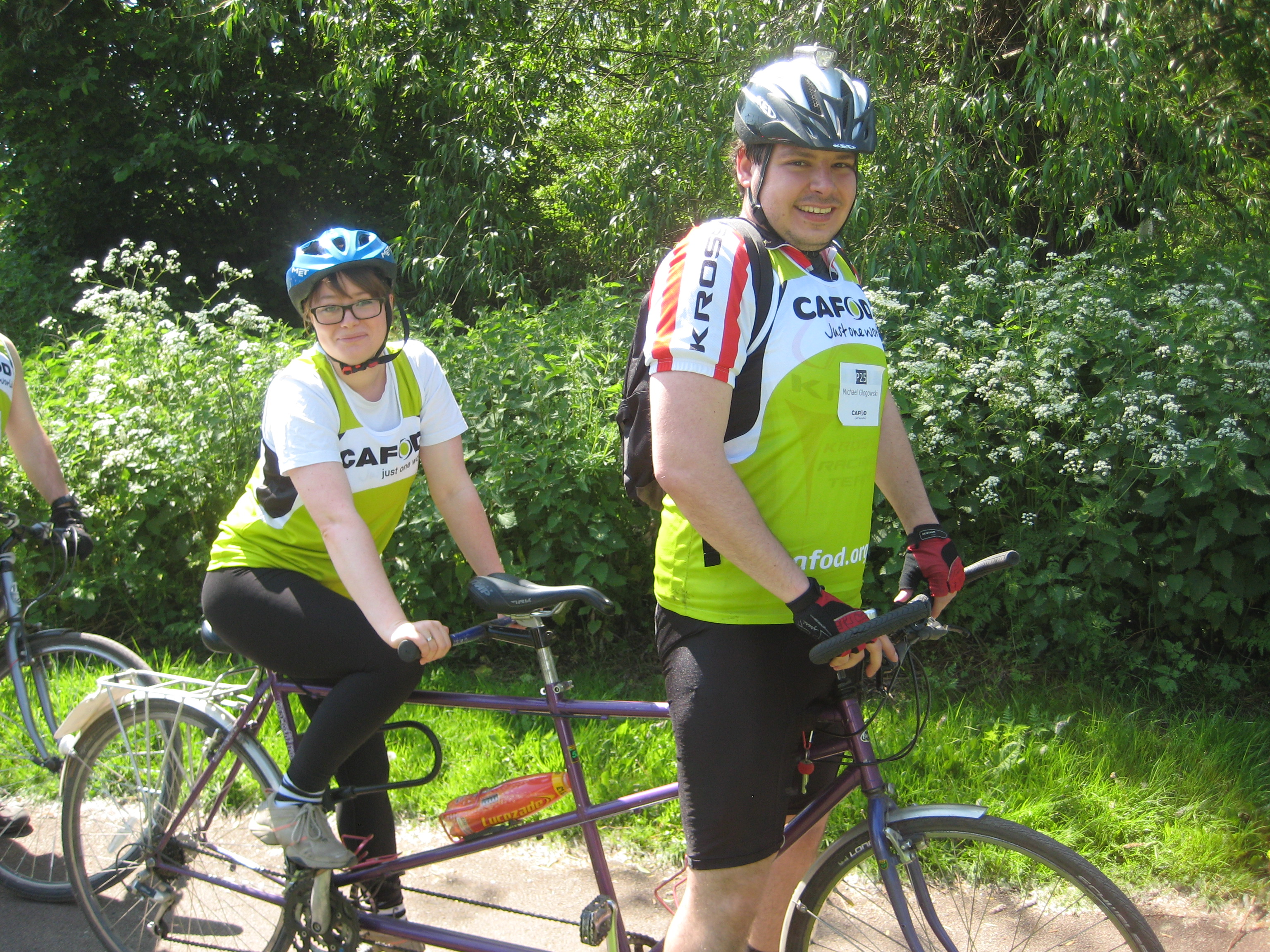 "CAFOD is a great charity and I wanted to volunteer and raise money for them," said Eleanor. "I hope we don't fall in the canal, but we've practised in central London so we can survive anything!"
All in all, each year promises a great mix of people from a wide range of backgrounds. Some are new to fundraising and others are almost life-long supporters of our work. But everyone comes together for a fun, healthy day out that really makes a difference to people living in poverty overseas.
Help us to reach our £100,000 target
Of course, completing the 10 or 19 mile cycle is only half the challenge. Each year, CAFOD riders raise thousands of pounds to support our work. This year, nearly a decade after the first Pedal Against Poverty cyclists saddled up, we're moving up a gear. We're attempting to bring the total raised from the last nine years of the event to over £100,000. That's an incredible achievement.
Sign up to Pedal Against Poverty on Sunday 7 June 2015
£100,000 can fund 25 health clinics in remote areas of Latin America. These health clinics provide a vital service for rural communities, meaning that families don't have to travel long distances – which can be costly and dangerous – to see a doctor. £100,000 can pay for equipment and electricity to run fridges to store vaccines. It can pay to stock the clinics with medicines and nutritional supplements. And it can pay for petrol for the clinic ambulance.
We're really proud that our cyclists have changed so many lives by taking part in Pedal Against Poverty over the years but we need your help if we're going to hit that £100,000 total. You can sign up online today, or get in touch with us on 0208 449 6970 or westminster@cafod.org.uk for more information.
So grab your helmet and start warming up to Pedal Against Poverty with CAFOD this June!
Pedal Against Poverty is next Sunday 7 June. You can sign up for either the 10-mile or 19-mile route