Celebrating 60 years of life-changing work with CAFOD's founding mothers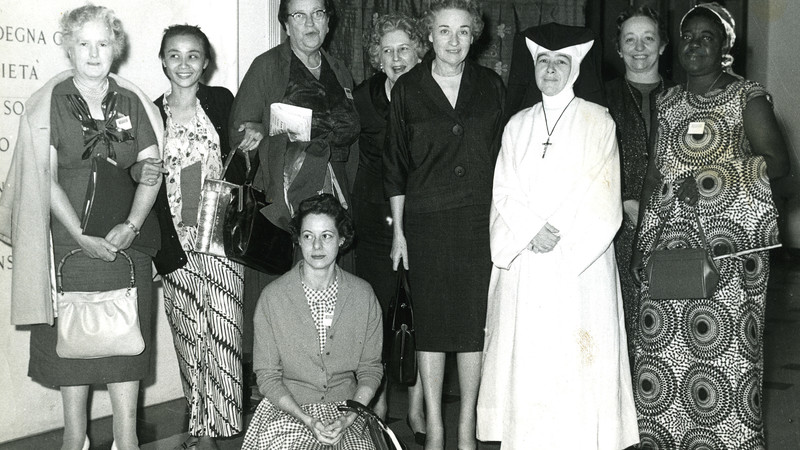 2022 will mark 60 years since CAFOD became an official charity following the creation of the first Family Fast Day by CAFOD's founding mothers.
Remembering the first Fast Day
"We weren't doing anything special, we were just doing what we thought we ought to do, remembering that we are all God's children."

Elspeth Orchard
Led by Jacquie Stuyt, Evelyn White, Nora Warmington and Elspeth Orchard, women from the National Board of Catholic Women (NBCW), the Catholic Women's League (CWL) and the Union of Catholic Mothers (UCM) came together to organise the first Family Fast Day in 1958. They asked children to give up their sweets and for their parents to make just one main meal for the family – the cheapest possible – and give the money they saved to feed people who were hungry.
The organisers hoped to raise £500 for a mother and baby clinic in Dominica, but as Sister Frances Orchard (Elspeth's daughter) remembers, they far exceeded that target:
"To the surprise of everyone the envelopes with cheques and postal orders came in by the sackful. Every now and again we stopped to read out a particularly touching letter. The one I remember was from a widowed pensioner who wrote: my pussycat and I went without our lunch today, and she had enclosed a postal order for 2/6d (approximately 25p in today's money). But all the 25p-s added up and the total sum was £6,673.9s7d."
To celebrate CAFOD's founding mothers and the continued importance of our joint mission, NBCW, UCM and CWL have launched a year of collaboration with CAFOD to conclude with a celebratory Mass in St George's Cathedral on Saturday 4 June 2022.
We are pleased to share this special prayer to give thanks for the role of women's organisations in creating CAFOD and for the support they continue to give.
Find full details on all the events in the year of collaboration
Empowering vulnerable women in Lebanon
As part of this collaboration, NBCW and UCM have selected a project to fundraise for. Like the very first project supported by the first Family Fast Day, it focuses on women.
The project is located in Lebanon, a country less than half the size of Wales, which is currently hosting over 1 million Syrian refugees on top of more than 400,000 Palestinian refugees already living in the country – and despite high levels of poverty and unemployment among its own population.
This initiative will support vulnerable Lebanese and refugee women, many of whom are survivors of violence or have had to flee their homes due to the conflict in Syria.
The project will play a vital role in equipping and empowering women leaders to create spaces in their communities for women to address issues of discrimination, trauma and stress. Furthermore, by offering opportunities for training and income generation, these women will draw on their own skills and experience to increase their resilience for the future. As it brings together women from both Lebanese and Syrian communities, it will also contribute to more peaceful community life.