Two years on – what your Lent 2015 donations achieved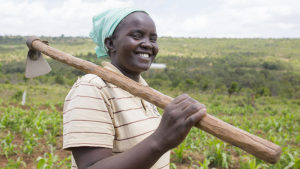 Thanks to your generosity during CAFOD's Lent 2015 Appeal, the UK government matched your donations, giving £5 million to help families cope with the changing climate. David Mutua, CAFOD's news officer based in Nairobi, visited one mother in Kenya who has benefited from your kindness.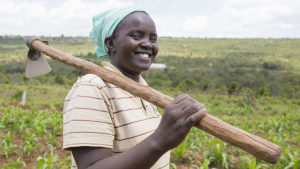 On the leeward side of the rolling hills of Samburu in Kenya, a cock crows as the rays of the rising sun cut across the landscape of Nomotio village. Naomi, 31, is already awake, and getting her three young children ready for school. After a light breakfast, Naomi bids them farewell and busies herself with the daily chores.
Donate to CAFOD's Lent Appeal, so all can flourish
After cleaning the chicken coup, most days she picks up her small mallet and makes her way up the hill to the quarry. As she approaches, the sound of metal hitting stone becomes louder. "Almost everyone in the community works here", says Naomi. "Since there are no other jobs in the area, we break stones and sell gravel to house builders."
A changing climate
When she came to Nomotio in 2001, there was sufficient rainfall to sustain, at the very least, subsistence farming. But now the rainfall has become erratic and the land is almost barren. "The persistent dryness has caused a lot of animals to die," explains Naomi. "Trees, grass and plants have dried up, making life very difficult."
The effects of climate change have forced people like Naomi to make gravel to make ends meet. Men and women, from the young to the elderly, all engage in this backbreaking work. Naomi steps into the quarry, picks large pieces of stone, climbs out, and seeks a spot to begin the arduous task of breaking up the rock. Fine dust envelopes her as she works.
"This is normal," says Naomi, as she begins to sneeze and cough. "We get severe respiratory illnesses and excruciating back pains, but we have to make a living. The money we make isn't much, but it helps."
Joining the farmer field school
At noon, Naomi downs her tools and heads home to prepare lunch. Afterwards she swaps her stone-crushing mallet for a hoe and watering can, and heads to her farm. Here, among her acre of land, is where Naomi is at her happiest. She begins to plough, weed and till, caring for her crops and vegetables.
The money raised for our appeal helped Naomi attend a farmer field school set up by our Church partner, one of many started in countries across the world.
"They trained us on farming techniques that we can adopt in this harsh climate, so we can earn a living from farming," Naomi says.
Naomi was given a hoe, a watering can and a shovel and trained in how to use manure to increase yield and line planting to space out crops. Naomi has already put this into practice on her farm where she's planted crops including maize, beans, potatoes.
Your Lent donations
This support for Naomi was possible thanks to funds raised through CAFOD's Lent appeal two years ago. Catholic communities across England and Wales raised £5 million for the 2015 appeal, which was matched pound for pound by the UK government through the UK Aid Match scheme. This funded farmer field schools and training not only for Naomi's community, but for more than 16,000 rural farming families across Kenya, Bangladesh, and Zimbabwe.
See what your donation could do this Lent
In addition to the training, farming machinery was provided, irrigation installed, livestock bought ready to breed and weather monitoring training set up, which by summer 2018 will have helped a total of 450,000 men, women and children to become more resilient to the changing climate.
A good future for Naomi and her family
For Naomi, the support she has received has spurred her on to engage other women in the community. She has been able to bring together 20 local female volunteers to be part of a chicken project. Caritas Maralal donated five cockerels and each of the women gave a chicken. Caritas Maralal supported with chicken coops, feed and water troughs and once the project becomes commercially viable, there are plans to assist the women with selling the eggs at market.
"Thanks to the lessons we were taught on early planting, I was able to plant vegetables early and my garden flourished," Naomi explains while she waters her kale and spinach. "The rains which have been erratic helped a little but now with no rainfall, I have learnt the techniques of how to irrigate the garden. From this small vegetable patch, my children get fresh vegetables and I can sell some to my neighbours. With the money from the sale I can buy a few things like soap and sugar."
As the sun sets behind the hills, Naomi lights the fire and begins to prepare the evening meal. Although she is tired, she is very content. "As we continue to learn and adopt new teachings, we know we shall succeed. I know that with the proceeds from farming, my husband and I will be able to pay our children's school fees. We thank CAFOD for giving us a chance to provide for ourselves and our families."
By summer 2018, you will have helped 450,000 men, women and children to become more resilient to the changing climate. Thank you.