March 18, 2015
Mariacristina Lubrano works in the Digital team at CAFOD. She is a proud Neapolitan who is writing a cook book of recipes that she has learned from her grannies and mum since she was 13 years old. In her first ever attempt at fundraising for CAFOD, she has doubled her cooking for Lent and will give what she raises from selling her goodies to CAFOD Lent Appeal.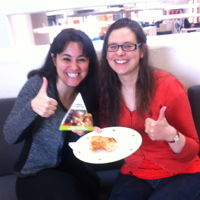 Making lunch for my colleagues: my Lent promise!
When I look back at the day I committed to my Lenten promise, I'm not sure what I was thinking…wait, I actually do! Because this year the UK government is matching every pound raised in support of our Lent Appeal, after some thought, I told my colleagues that I would double the amount of Neapolitan food from the recipe book I am writing and share it with them all to fundraise towards our Appeal.
I was so excited to know that my colleagues would taste some of the family recipes I grew up with and I was taught by my grannies and mum. But more importantly the idea of having double the impact on the lives of people like Martin and Kyin Nu and their communities in Myanmar meant the world to me and got me even more motivated towards my fundraising target. Continue reading "Neapolitan cooking to support CAFOD Lent Appeal"