November 19, 2018
Presenter and reporter Julie Etchingham travelled to Lebanon to see the work of CAFOD partner Caritas Lebanon. 
Thursday morning and we're up before dawn to take the winding road to Mount Lebanon.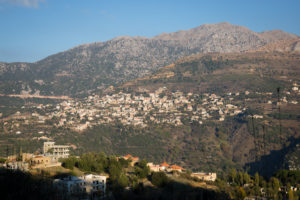 It's a beautiful clear day as the sun comes up and we arrive at the home of a family of six refugees from Syria.
They're living in a couple of rooms in a house which is still being built – but there's a stove burning and the four children are happily pouring tea and having breakfast.
And even better – Hussein, 11, Mostafa, 10 and Amar who's 6 are just about to put on their school uniforms.
Help a refugee child. This charity gift will give much-needed emotional and educational support to children who have fled the violent trauma of war.
Continue reading ""I want to be an engineer so that I can rebuild Syria""