February 15, 2018
Gillie Drinkall is a CAFOD school volunteer who has been visiting schools in South London to talk about Zimbabwe, and to introduce the Lent Give it up challenge.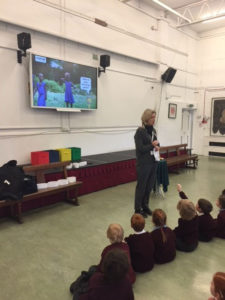 A primary school in South London.  A very small boy approached me and apologised for not being at my previous assembly as he was in hospital.  He then confided, with breathless excitement, "It's my birthday in six days' time!". I wished him "Happy Birthday … in six days' time" and turned to a slightly older boy who wanted to know how to give money to CAFOD as soon as possible.  I was reminded how much I enjoy talking to small children.
I have scheduled visits to an unusually high number of schools this Lent to share stories from Zimbabwe and to talk about the Give it up challenge.  As ever, until the first assembly unfolds, I am never quite sure how the children will respond.  This time I was going to try and show all the schools the short film featuring Svondo and his mother Marian who live in Zimbabwe.